Before I forget, I wanted to record the trip on the above map. It provides points of reference.
Pre-trip:
We stayed at a Keuka lake house the night before our trip. On our drive up, we had tacos in Owego. I thought the variety of tacos was really good.  By renting the house at Keuka Lake, the owner let Andy and John park their cars for the week. They would later drive back from Port Huron, Michigan.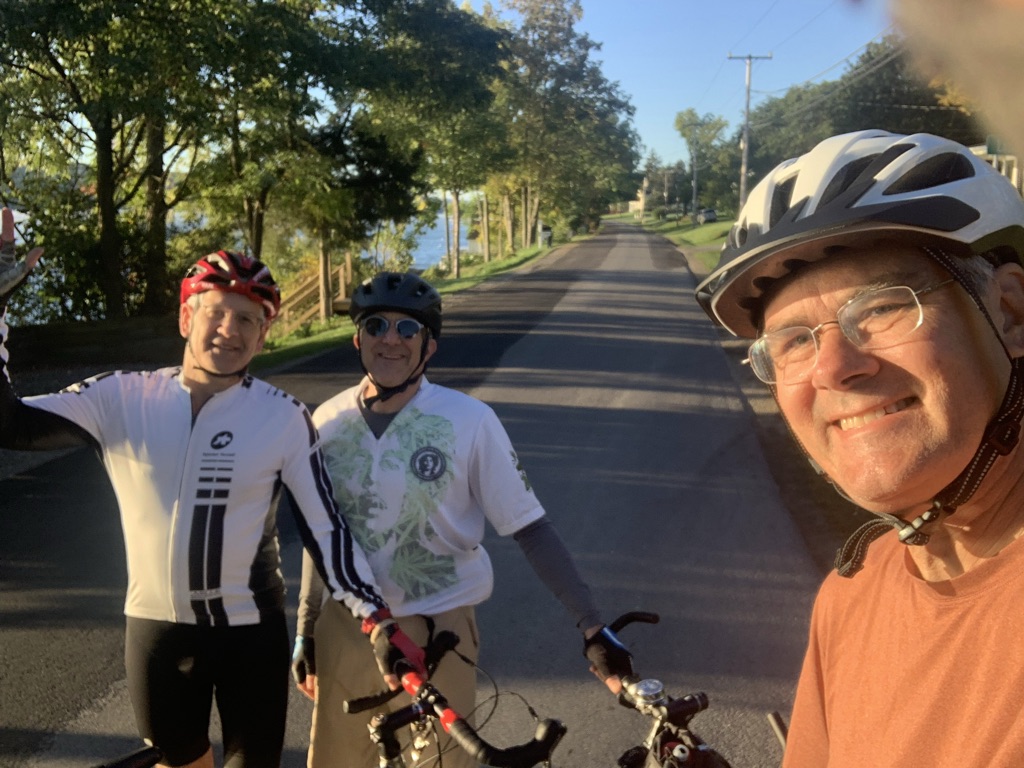 Day 1 – Biking from Penn Yan
We cooked breakfast, packed a lunch that we ate while sitting on a guard rail, stopped at a burger restaurant for a mid-afternoon meal, and cooked pasta with pesto for dinner.  I ordered a veggie burger, but it was the fake meat kind and not my thing.
The ride itself was pleasant. It started with about 5000 feet of climbs and became more rolling as we headed west on roads that mostly paralleled Route 20. We rode on Route 20 as well. It had a decent shoulder for the most part. Later in the day we had some headwinds.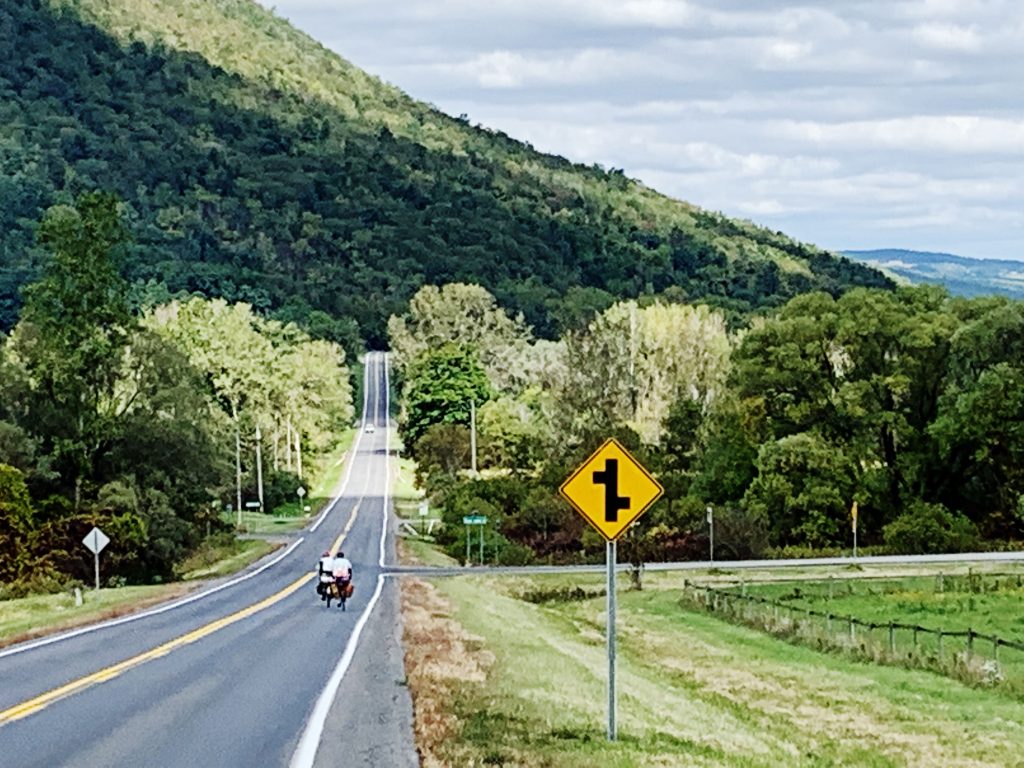 Our goal was to make it to Darien Lakes State Park. That was ambitious, and we went 90 miles as it was.  We camped behind a fire department. The guys were nice and said it was no problem. But the fire department building had flood lights. This isn't ideal for sleeping.  Being a Friday night, I think there was a football game in the distance. The others seemed to sleep well. I think we went to sleep around 8:30 or 9:00.
Day 2 – Biking to Buffalo
Personally, I woke up around 5:00 and wasn't feeling well. My heart was racing.  I walked over to a nearby gas station, got something to drink and just kept walking until I felt better.  When the others woke up, I let them know that I wasn't up for continuing west into Canada.  I went online and ordered a rental car from the Buffalo Airport.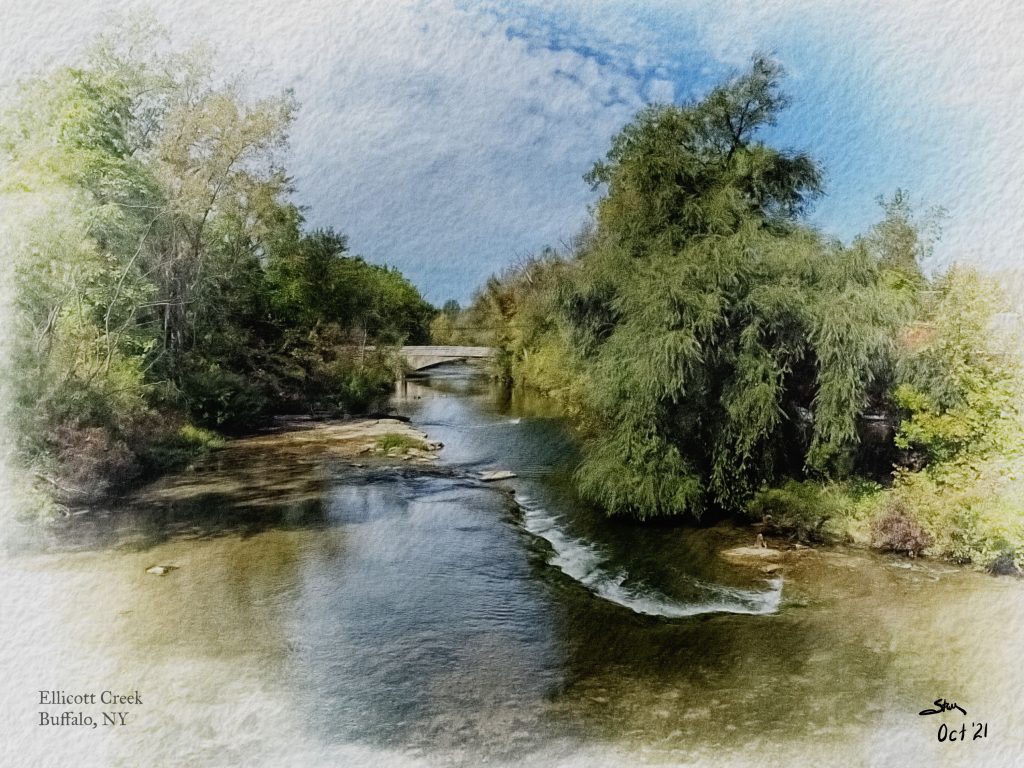 The bike ride into Albany was fine. A bit breezy. I left the other two shortly before making my way to the airport. I noticed that the airport has good pedestrian access, and this isn't always the case.  The rental car place was a disaster. They ended up not having a car available for anyone who had made their reservation the same day. Some guys who had prepaid two weeks in advance couldn't even get a car.
Battery power is something I just haven't worked out. I have this heavy brick of a charger that never seems to keep its charge.  Not being able to rent a car, I biked to a nearby Starbucks to charge my phone and consider my options.  I had corresponded with Blue Hannon prior to the trip about biking together when we were in the area.  He happened to live pretty close to the airport and offered for me to come over.
Visiting Blue would have been an amazing trip if this is all I had done. I want to share a video about the company Blue started:
I met Blue when he led a bike tour that I planned the route for. He's an infectiously positive problem solver who values community collaboration while trying to do good. And I enjoyed talking with him about what I'd been doing over the last ten years as well.
Blue took me to the Depew Amtrak Station early in the morning. I think we got there an hour earlier than we needed to. I appreciated more time to talk and learn about wind energy.
Can I take my bike on Amtrak?
I knew there were trains that I could take my bike on, but I needed to confirm this before I knew that I would see information once I tried to buy a ticket. I tried calling Amtrak, but that was a waste of time because the voice messaging seems to iterate what is on the website.
Last year, I did a round trip bike ride to Niagara Falls from Ithaca rather than doing a "bike and train" trip. This was because I didn't know when I would get to the train station. And I didn't want to find that the bike racks were full. As it was, another cyclist tried to get on the train car I was on. He was told to go to a different car.
So, having taking my bike on Amtrak twice this trip, here's what I would suggest.  On the Amtrak App, go through the process of buying a ticket for a seat. Before you pay, it will tell you how many bike spaces are still available.
I used Amtrak twice on this trip. The first time was from Buffalo to Albany-Rensselaer. The second time was from Penn Station in NYC to Trenton.  Why I didn't just use NJ Transit? NJ Transit is less expensive and carries bikes. That said, Amtrak was just so much more pleasant than NJ Transit, not to mention that NJ Transit doesn't carry bikes between 5-7 pm out of NYC.
Day 3 – Biking the Hudson River Valley north of Poughkeepsie
I left the Rensselaer Amtrak Station around 12:45 and figured I would hop on the newly completed Empire State Trail that is paved most of the way to New York City.
While on the train, I had looked up state park campsites and found one at Mills-Norrie State Park.  That would be a 65 mile ride.  I took some wrong turns in Rensselaer and ended up on the NY State Bike Route 9 instead of on the trail. The on-road route seemed more direct, had a wide shoulder and followed the river. I stuck with this scenic route.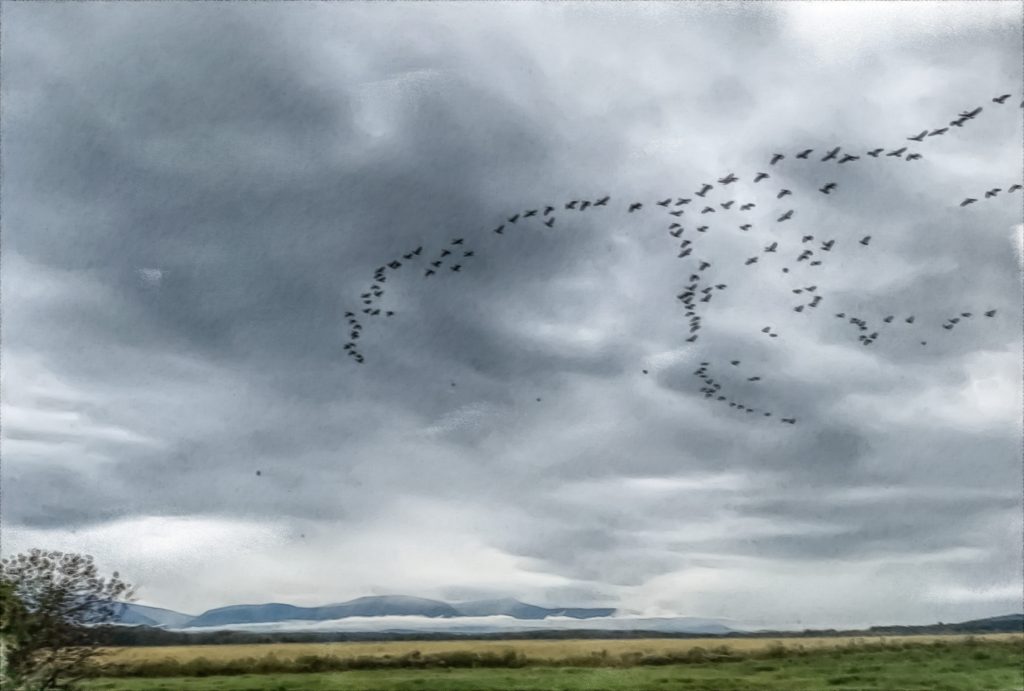 Because Mills-Norrie State Park isn't on the Empire State Trail, I didn't cross over the Hudson River and take the trail through New Paltz.  New Paltz has a lot of character, but I visited there in July. 
Trip tip
If I was looking to plan another trip by car or bike to the Hudson River Valley with my family or friends, I might go to Mills-Norrie S.P., stay in a cabin, and do a loop that includes Kingston, Mohonk (mountains), New Paltz, and Poughkeepsie. There is world class hiking, food and history in this area.  We stayed at Mohonk Mountain house in July and liked it a lot. You don't have to stay there to appreciate the beautiful area. You can get a day pass to hike the trails. I would want to visit the Vanderbilt and Roosevelt estates as well as the Culinary Institute of America.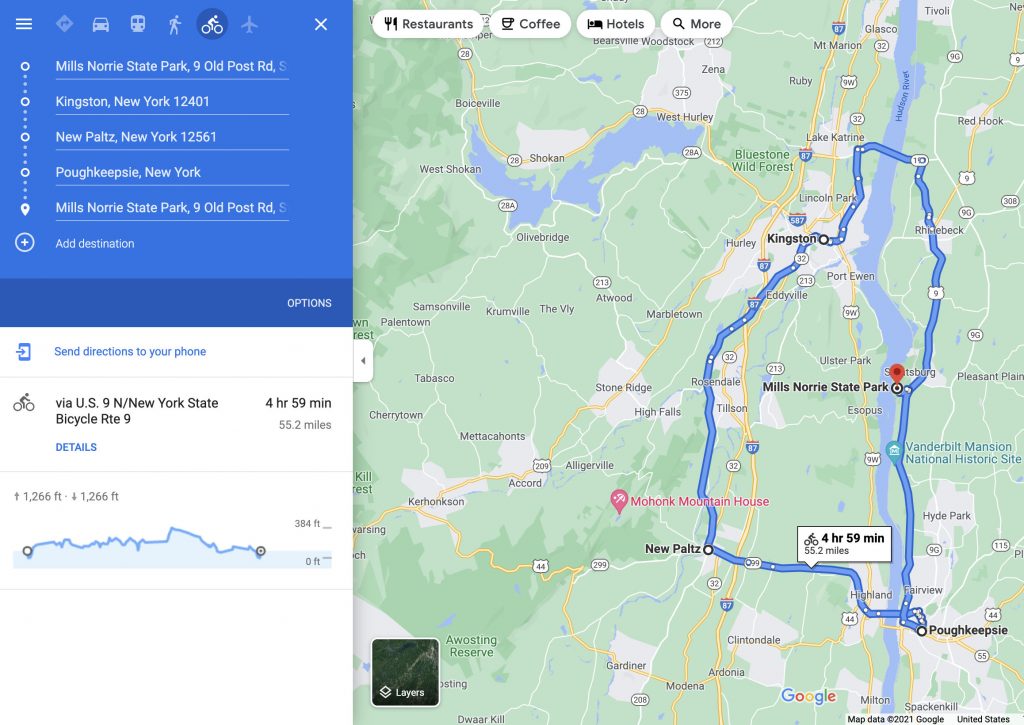 Back to the bike ride
The towns on the east side of the river had character. I liked the views of the valley and mountains to the west. This bakery is in Red Hook.
I enjoyed the views between Hudson and Poughkeepsie. And the route remained fairly flat.  I got to the campground around 6 pm.  It took me some time to find my site. I quickly ran out of daylight and ate broccoli and cauliflower with dip in the dark.
It rained overnight. I stayed dry.
Day 4 (final day) – Heading south to NY City and then home
Up at 5:45 am, I left at 6:28 and biked 104 miles in 8 hours 47 minutes plus an additional hour for stops.  This brought the travel time to about 9 hours and 45 minutes. I was at Penn Station a little before 5 pm.
I suppose I should show some photos of the Empire State Trail System. The day was drizzly. The route often felt like I was biking along a rail corridor with little connection to towns. The entire trail south of Poughkeepsie was paved. 
This first photo is from about 35 miles into the ride, shortly after I crossed the Appalachian Trail.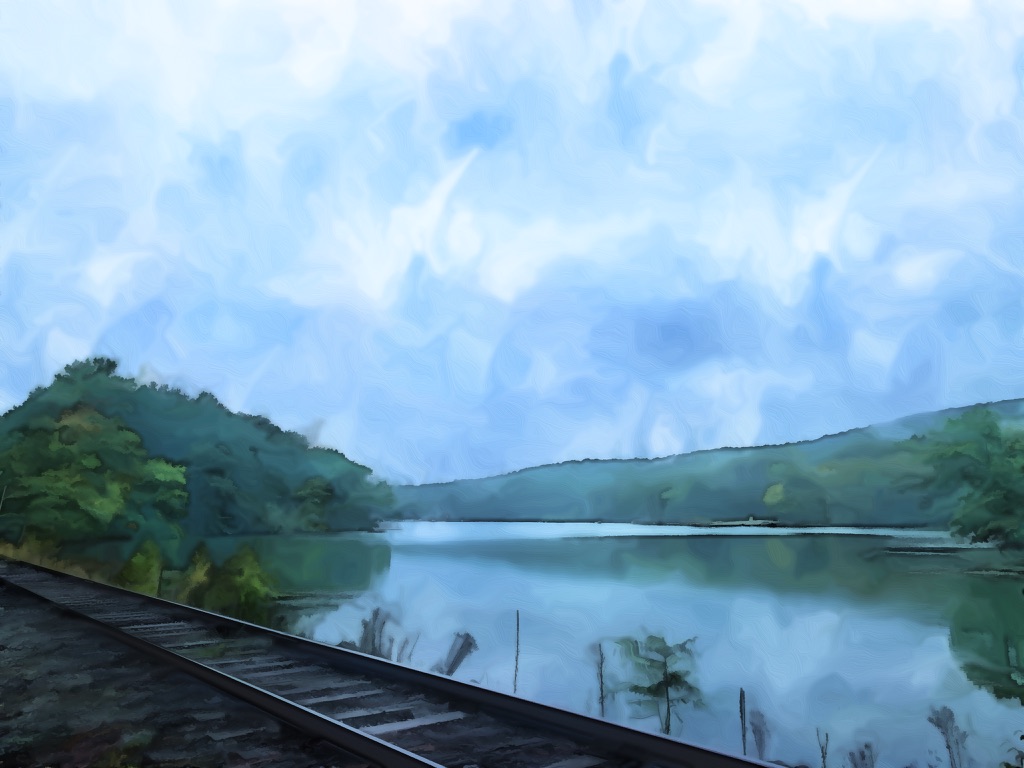 Biking on a trail through the woods is quiet. It's good for distraction free thinking.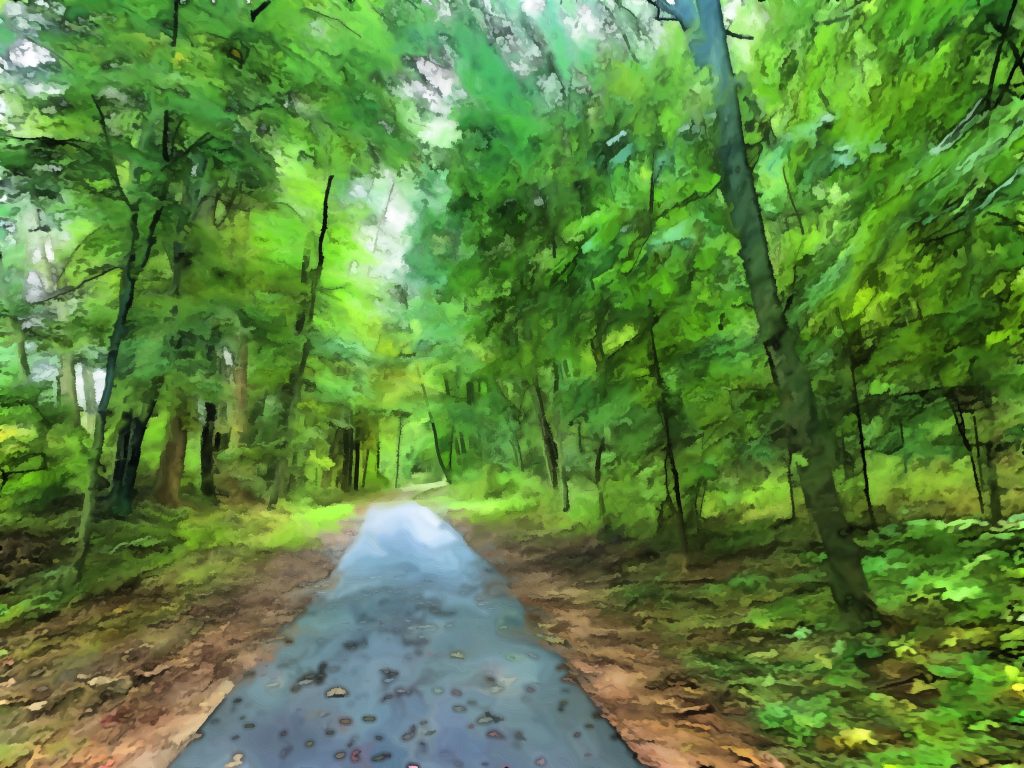 The trail followed along roads and parkways sometimes as I headed further south. It didn't feel very urban considering how close I was to New York City.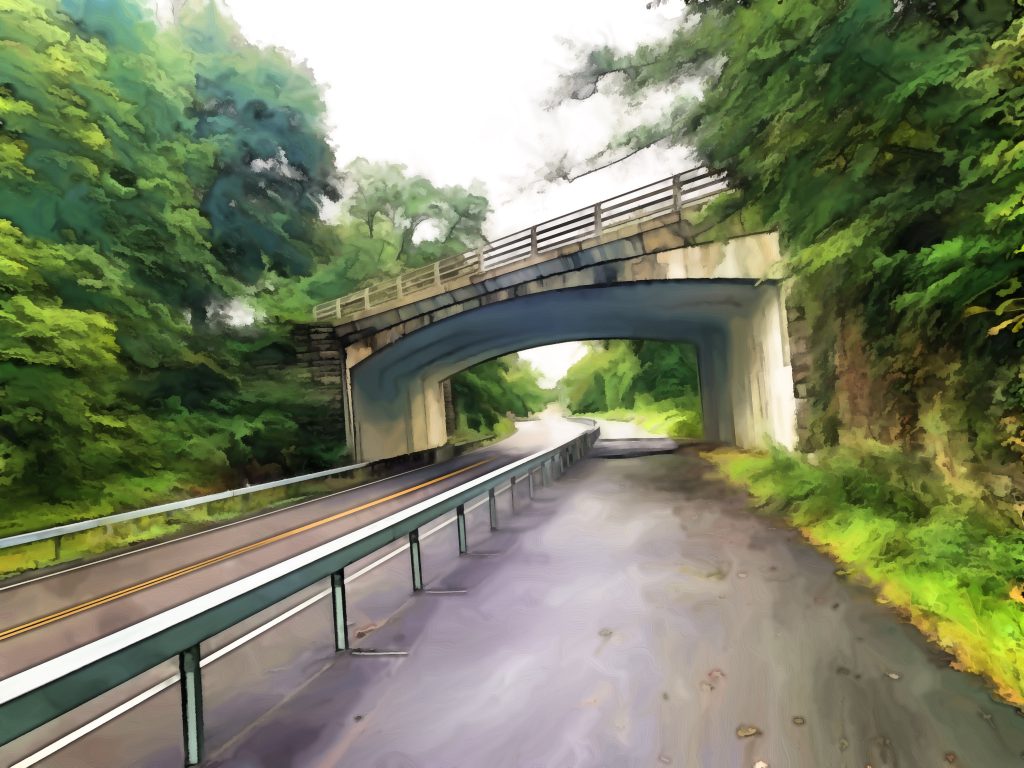 Coming into New York City, I ended up on Broadway for a bit.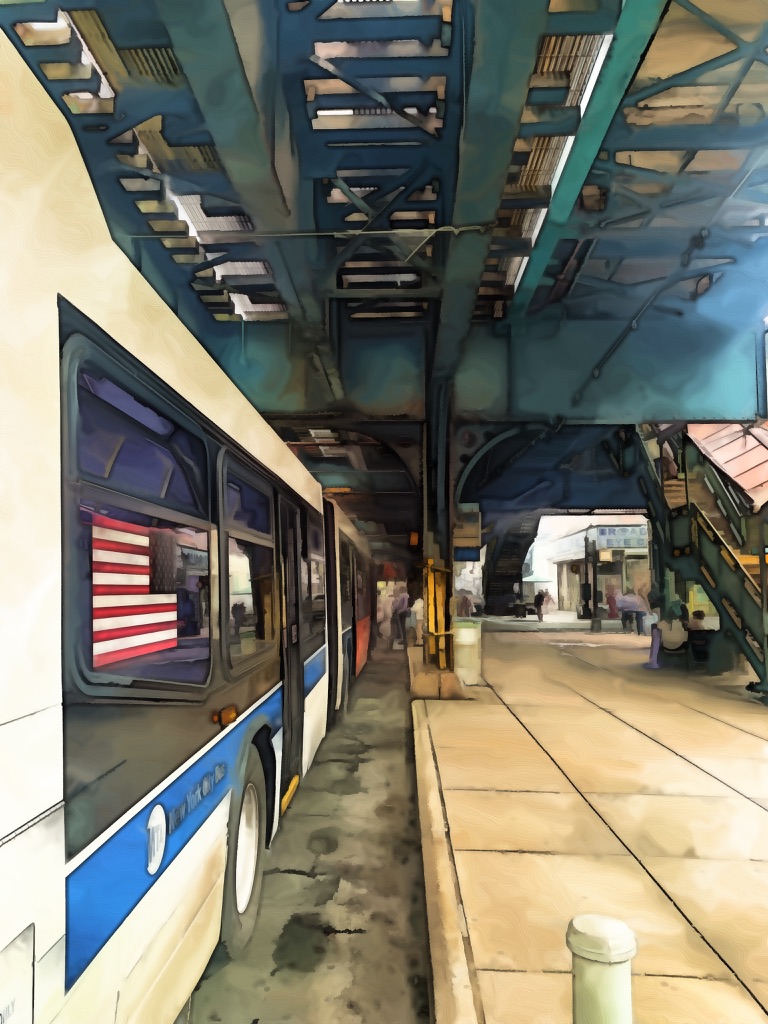 Signage for the East Coast Greenway wasn't apparent, and coming into NY was a little disorienting. Getting to the Hudson River Trail required some google mapping, and I made it there via Broadway and some neighborhood streets. I found myself among the relics of Robert Moses' influence.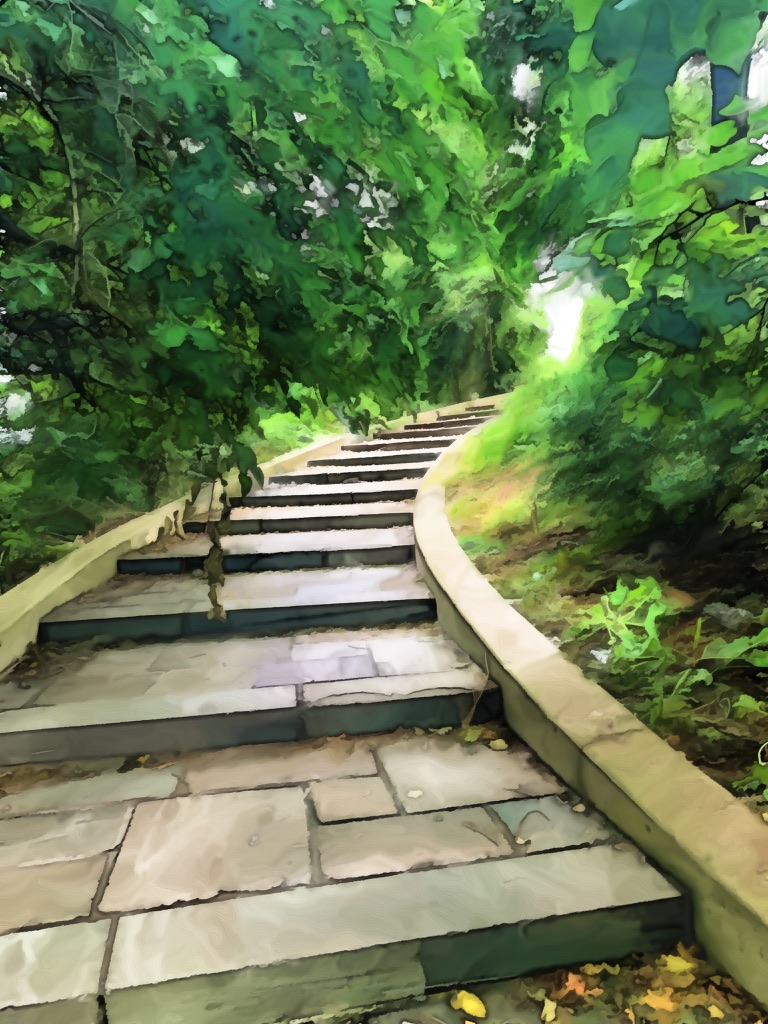 I passed under the George Washington Bridge on the Hudson River Trail.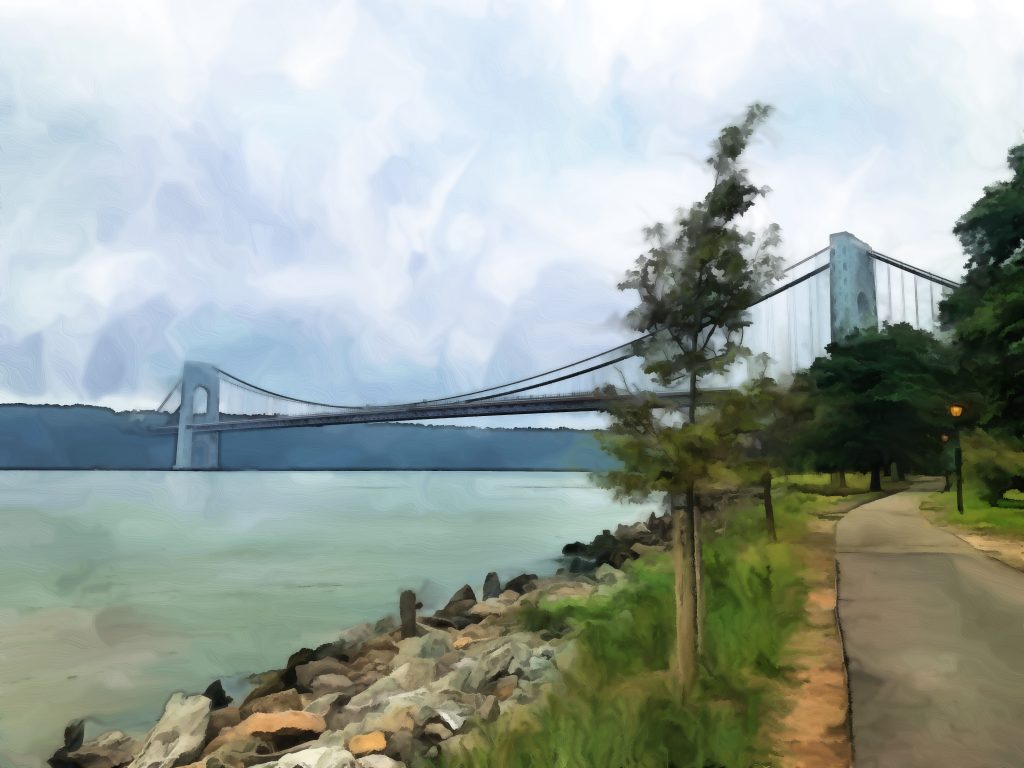 At Penn Station
I got a falafel sandwich and a green smoothie and had a doughnut for dessert.  The Amtrak waiting area was pleasant amidst the rush of the station. And while I wanted to get home, I didn't feel like rushing.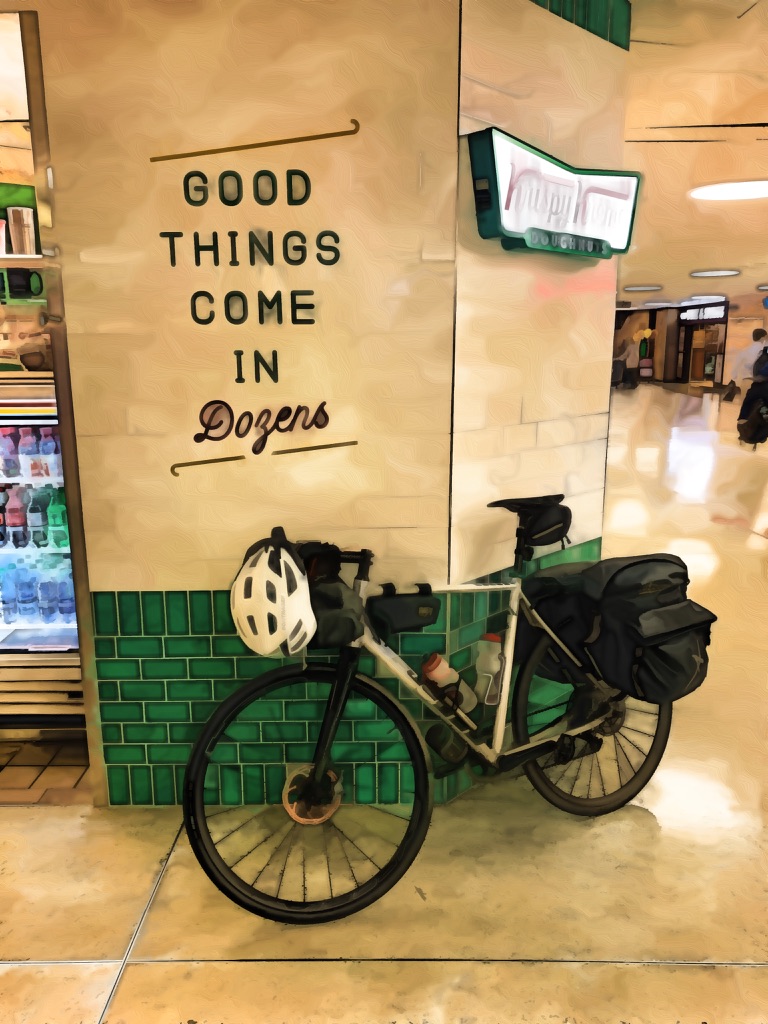 I chose to take Amtrak Keystone service because I knew it would have a bike rack. My last experience with bikes on NJ Transit wasn't pleasant. You can get on a car with your bike, only to see that there's no space, and it's difficult to roll your bike to the next car.  People seem harried. I prefer the quiet atmosphere and predictability of the Amtrak train.
From Trenton to Yardley
I biked through the dark along the Delaware Canal to Yardley Station.  Yardley has high platforms to easily roll a bike onboard the mostly empty SEPTA Train.
My family was surprised that I'd be home that night. They went out and bought ice cream for a little birthday celebration.
A quick summary
Getting away for 9 days during the fall semester of my daughter's last year in high school was a bad idea (too long away from family). And when I wasn't feeling well in Buffalo, I took advantage of biking the Hudson River Valley, which I'm currently mapping for a guidebook. By truncating the trip, I was home to watch two field hockey games and be with my family during a very busy week.  My wife and prepped meals to make things less stressful at home.
While I shortened the trip, I still bike about 110 miles in one day and a total of over 310 mi. After the first day, the route was flat. I wasn't working too hard, just spending time on the bike. I was more bummed about not finding places to fill my water bottles along the trail. And when I finally did eat lunch at Mahopac, about 60 miles into the day, it was greasy deli food.
Trails got narrower and washboard-like  as I neared New York. And once I got to NY, I was ready to be gone. I saw maybe 150 people on the trail all day, including when I was in NYC. It was cool and drizzly, keeping people away.
Thoughts on my bike setup
I rode an 1×11 speed gravel bike that felt a little wrong.  The new HED wheels I bought were dented from a pothole a couple of days before the ride, but they worked fine. But when I installed the rear cog on the new wheels, I had the spacers wrong. This gave me only 9 speeds to use and made the shifting weird.
Apparently I also had my seat at the wrong height or something. I experienced numbness in my toes.  This has kept me from biking since I've been home. I was almost ready to buy a new bike, but made some modifications to the seat location and have been trying to work out the numbness through swimming and walking. 
I almost didn't use panniers and tested several seat & frame bag options. I finally did choose to use panniers to hold my gear instead of bikepacking bags. A rack + empty panniers weighs 7.5 pounds before you put anything into/on them.  But using panniers was easier because I did not have to crush my stuff tightly into bags and I could bring some extra warm clothing.
Stuff
My battery pack didn't work well. I need a different one (or two), or maybe a hub charger. I used less than half of the clothes I took. The weather didn't get cold.  I didn't use my down jacket or most of my socks. If I was traveling on my own, I'd probably take a stove. But cooking takes time. A bag of raw vegetables from a grocery store works really well for food.
My tent went in front of my handlebars in an Ortleib dry bag. My phone slipped into the top bar bag, and this was convenient.  My tools went into a water bottle-like container on the underside of downtube. And everything else, including food, went into the panniers.
Next bike trip
Assuming I feel up to it, I'll do a long weekend bike trip in late November. It's too early to commit to a direction. I'd like to do a loop using the D&H and O&W in NE PA and NY. And I'd like to bike to DC. Or I could just bike someplace from home and not worry about where I'm headed. That's most likely because the route doesn't matter. Biking is about experiencing where ever I happen to go.
Gear for trip – final
Bike – Jari 1×11
Pannier Option
Ortleib roll handlebar bag
Top bar bag for phone
Rack
Panniers
Tool container
Sleeping Gear
Tent – Front entrance, 1X
Sleeping bag – 30 degree mummy
Sleeping pad – Yellow one
Purple inflatable pillow
Clothing
2 Pairs bike shorts, (only used 1)
2 Pairs shorts (only needed 1)
2 Pairs Underwear
2 T Shirts (Burnt orange) (only used 1)
1 Web belt (maroon)
2 pairs short socks
1 pair of wools
Running shoes
Warmth/Safety
Bike gloves
Head band (didn't use)
Waterproof gloves   (didn't use)
Orange puffy jacket (didn't use)
Blue rain jacket
Reflective Triangle
First aid kit
Masks (2) (used on train)
Helmet
Toiletries/Personal
Glasses (lost one pair)
Soap – Dr Bronner (left at Blue's house)
Floss
Toothpaste
Toothbrush
Razor
Towel (didn't use)
Toilet paper
Wet wipes (didn't use)
Deodorant
Electronics
iPhone, USB cable
Battery, Charger cable
Watch, Watch cable
Kindle (didn't use)
USB plug
Cooking gear
Spork
Instant Coffee (didn't use)
Tools
Multi-tool
CO2/nozzle (2)
Pump
Tubeless goo
Tubes
Tire irons
Tubeless Valve
Rag
Chain lube