I need to say a little about the weekend, which brought so many Jenkintown families together through shared experiences.  There are community experiences and my own experiences that I want to capture.  Why here?  Because my day to day life can be solitary and I am grateful to know incredible people in Jenkintown.
The Dads camping trip
Jenkintown Dad\'s Camping Trip was this past weekend.  Fifty dads and about 100 kids headed to Belleplain State Forest, which has wooded camping sites on Lake Nummy and group campsites about a mile away.  The dads who organized of the trip did a great job, and I was blown away by the experience.  It\'s the kind of trip where you get to know people you might not otherwise meet. If we aren\'t traveling on Memorial Day Weekend in the future, I would do it again.
Before the trip, there was an email list, a sign up, payment ($50/person) and a meeting at the VFW. We had to reserve our campsites (either by the lake or in the group campsite area). Tasks were assigned.  Food was ordered. And people headed the Belleplain State Forest after Color Day. We left as early as possible to avoid traffic.
Color Day
Color Day is a battle between the Red families and Blue families.  If you\'re a family in Jenkintown Schools, you\'re either a Red or Blue.  Of course, some Reds marry Blues, and teachers are reluctant to take sides.
Here\'s a Video of the entire student body of the Jenkintown School District.
Jenkintown School District Color Day Parade, May 2019
Color Day Event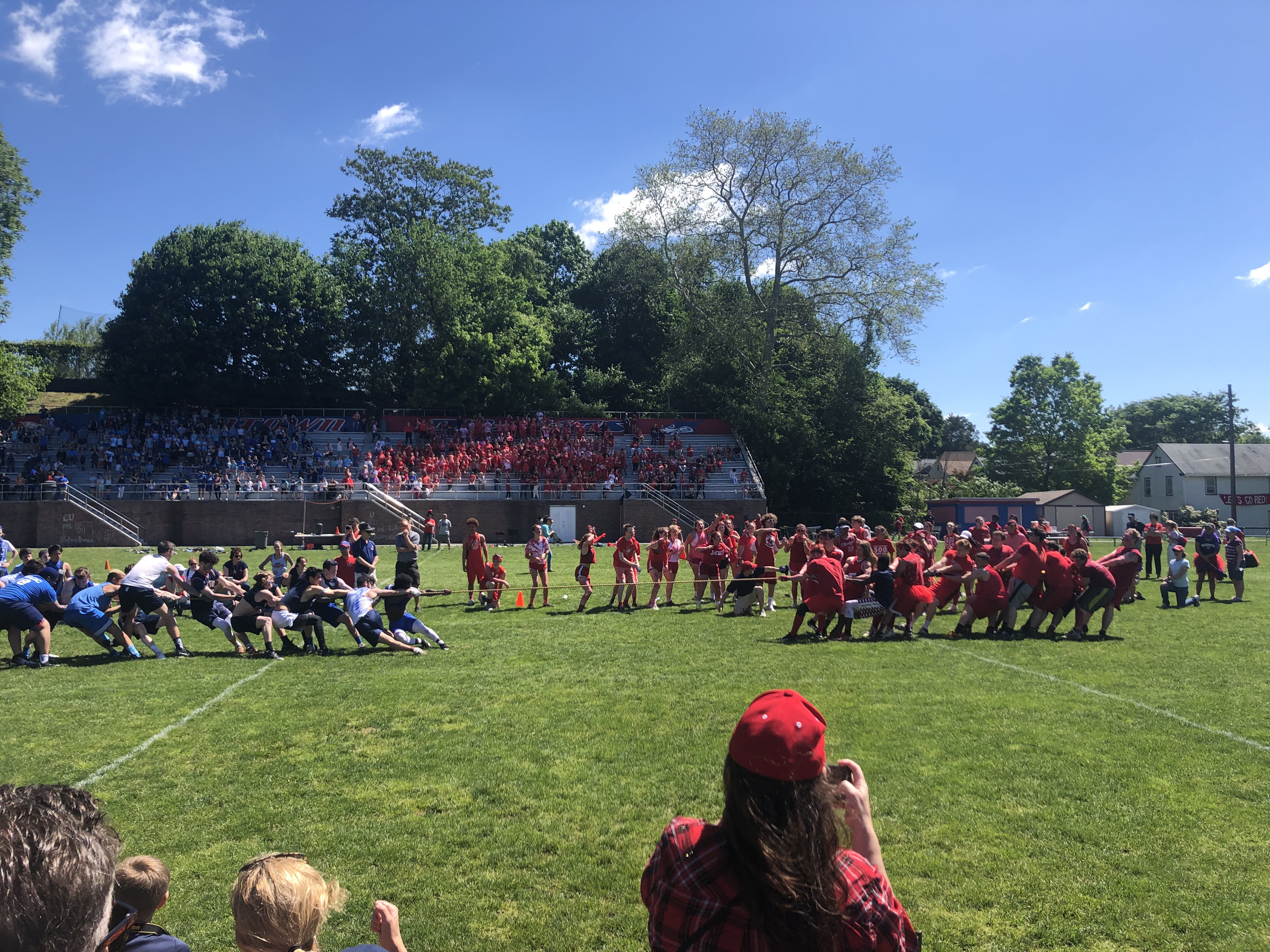 Red-Blue Tug of War. Each Side won one Tug of War.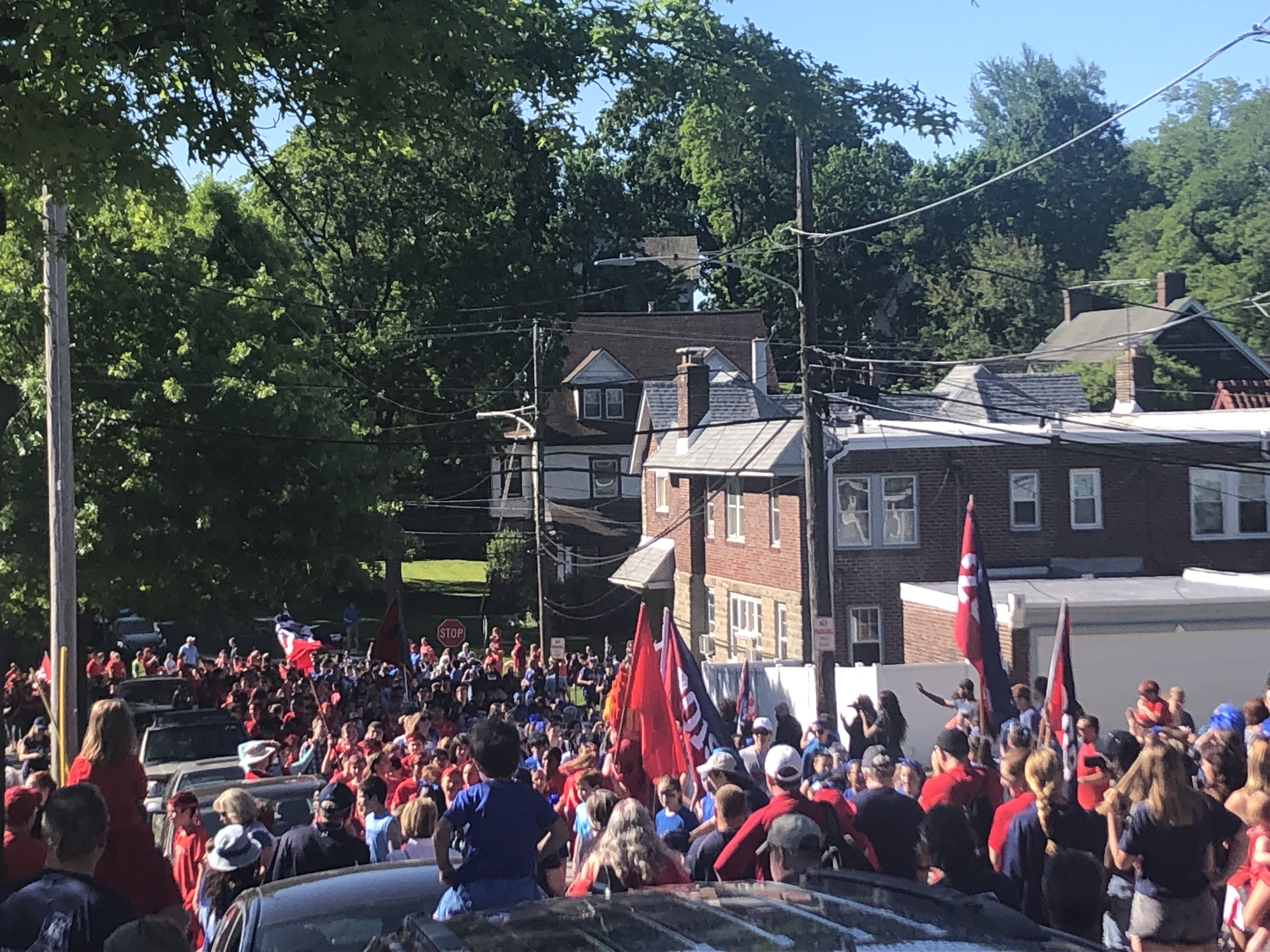 Parade making its way to the field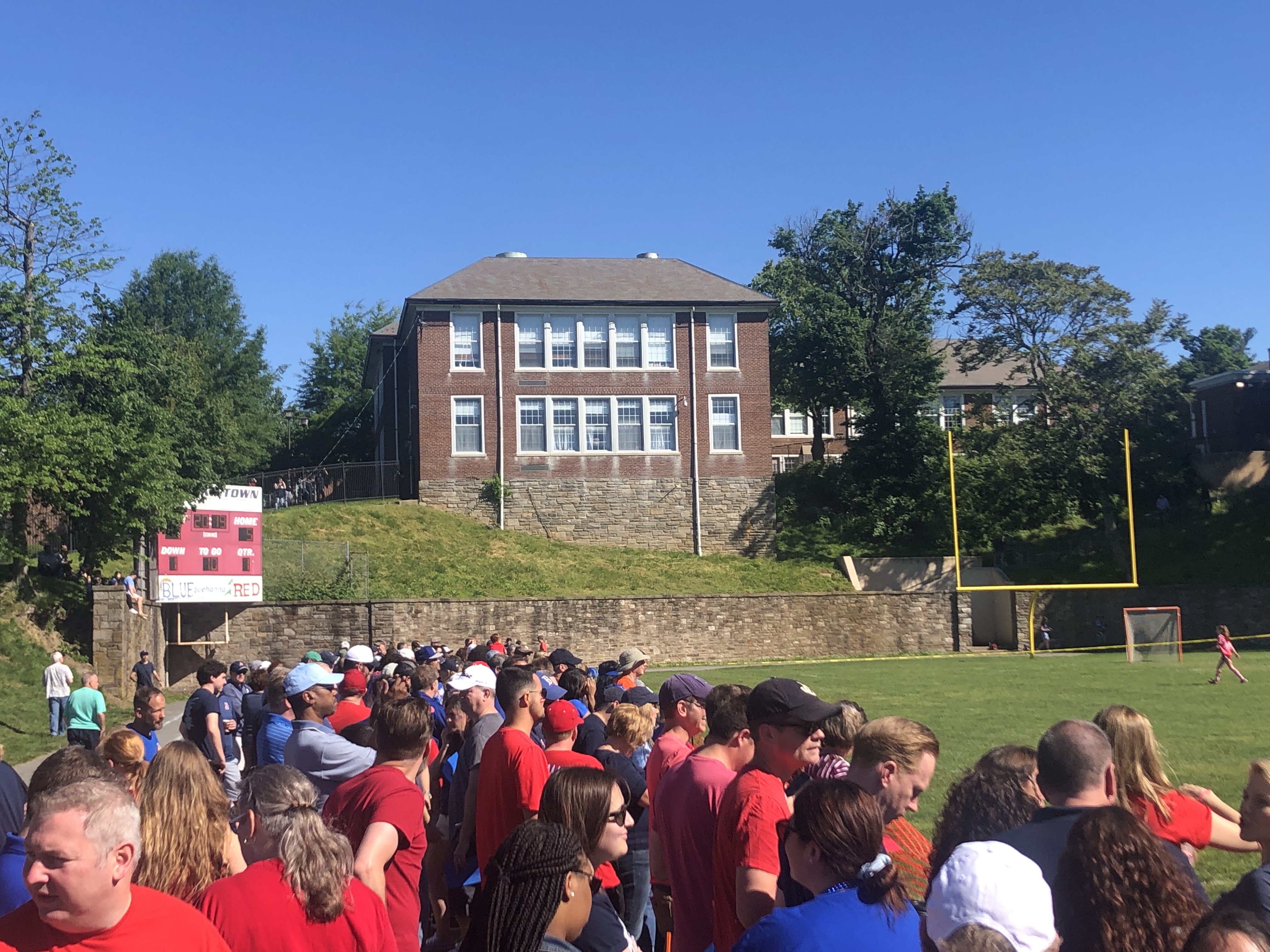 Red and Blue parents largely stick together by color to cheer on the kids.
Back to the camping trip
After the setup, kids find friends to hang out with.  And I just went along with the flow. 
On Saturday, I went biking with my next door neighbors.  My kids went canoeing.
On Sunday, some 7th grade girls went to Sea Isle City with Mr. McGettigan and met up with others from Jenkintown. I drove Jessica and friends to Strathmere Beach, which has free parking, no beach tags, no facilities, and a lot fewer people.  Several others were there. The kids made themselves into mermaids in the sand.
Sunday morning bike ride
Sunday morning, while others were sleeping, I rode to Starbucks, which was about 40 miles round trip. My ride was awesome though the route itself wasn't spectacular.  Completing 40 miles before 8:30 am on a Sunday morning means there are almost no cars.
Starbucks was a destination- totally predictable, a point on the map. I met a retired cyclist, and over coffee we talked about riding from Highpoint to Cape May, 210 miles in one day.
It\'s not like others couldn\'t have come with me.  I met some serious cyclists, like Peter Wai. He has biked from Jenkintown to North Carolina in back in just four days, but he didn\'t have his bike with him.
Ticks on the camping trip
Who didn\'t get bit?  Thank goodness someone bought a box of tick removers.  Ticks were such an important part of the trip that the official t-shirt logo was revised to show a tick out for blood.
Home
Coming back from the trip, there were tents to dry out.  It rained at night while we were camping. Neighbors invited us over for delicious southern barbeque cooked in a green egg that included baked mac and cheese.
Back to work
Got this map off to the printer.  It\'s two-sided, but here\'s the front side.
Worked on redesigning the Union County Transit Map (Still very rough):
We\'ve been rushing to finish the map for the Friends of the Genesee Valley Greenway – versions for both web and print.
And working on a map of Lewes to Georgetown.  At this point, I\'m framing it out.  But it will show the route to Log Cabin Road and on to Georgetown from Lewes.
So, what did you do today?
Editing NGINX configuration on my servers to increase upload maximiums.
Talking with printers and clients about mapping projects.
Downloading data from Overpass Turbo to create sample WikiMapping projects.
Getting my pool filled, driving my daughter to dance, making breakfast and getting kids to school, calling the plumber about the air conditioning, that kind of thing.
Setting up WikiMapping projects for people in South Carolina, Colorado and Tennessee.
Trying to figure out what to do if my daughter\'s two week bike trip is cancelled in July.
Reading the Mueller Report and Black Flags, The Rise of Isis, and the Pennsylvania State Atlas.
Making appoints to meet with WikiMapping Clients in DC and the editor of the Pennsylvania State Atlas.
Reviewing work by coders.
Map design.
Planning WikiMapping next steps (a constant).
Holidays can give us time to do something different.  Now the holiday is about two weeks past. I\'ve gotten maps printed, worked out proposals for new maps, read, met with people, gone on more bike rides, and figured out more things with Wordpress preferences.