I'm exploring alternative bike trips that relate to some level of mapping work.  Destinations include Ann Arbor, Buffalo, and the Adirondacks.  It's tough. I don't have much time. Now is the ideal time to go.
Trip idea 1, when the Canadian border opens:
From Owego, New York to Ann Arbor or Detroit is about 550 miles.  Andy plans to do this once the border opens up. He was like, "Don't put too much effort into it."  I didn't, but I did try to give the map more character than the original one that the initial draft. 
Here's a comparison of two versions (interactive)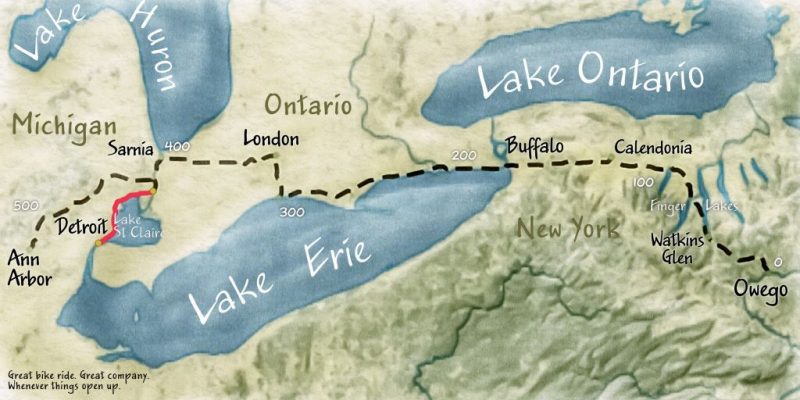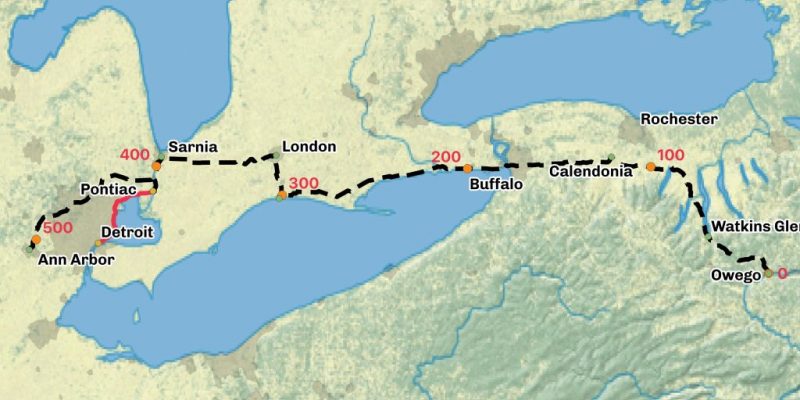 I wonder a little bit about the winds coming off of Lake Erie.  Not that I care too much.  There's a very cool satellite site, Zoom Earth, that shows wind currents.
This map from Owego to Ann Arbor started with a few points, a line, and a Natural Earth tiff. The primary font Jakob, and the adventure takes you through about 7000 feet up and 7000 feet down from within the terrain of the Finger Lakes, across an agricultural landscape, to an area of historic old homes if you head into Detroit.
London, Ontario is on the Thames, and St Catharines, Ontario is a rowing center. The rowing connection interests me.  Looking closer at Open Street Map, I notice the Welland Canal from Port Colburne on Lake Erie to St. Catharines on Lake Ontario.  The Welland Canal came up in a phone conversation that I had just yesterday, and I didn't even bring it up. It's an interesting coincidence.
Biking from home to Toronto
I was also thinking about going to Toronto once Canada opens up, but maybe I could just drive up and meet people at Avenza.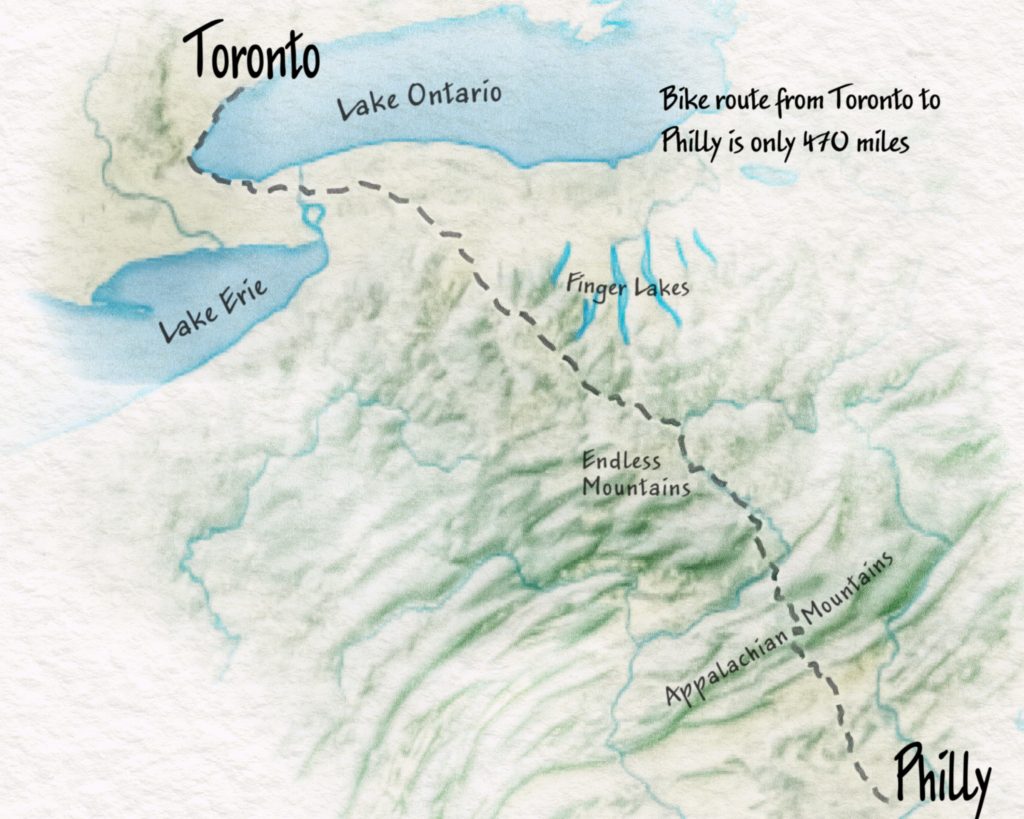 More of a driving adventure – Home – Quebec City, Montreal, Toronto, Niagara Falls, Home
I don't feel like driving, but 1500 miles is far more than I have time for.  The trip would go to Quebec City, Toronto and back. I like the way this map provides an overview of the valleys and mountains. Even we drive, it's important to stay off expressways so that we can slow down and experience more character.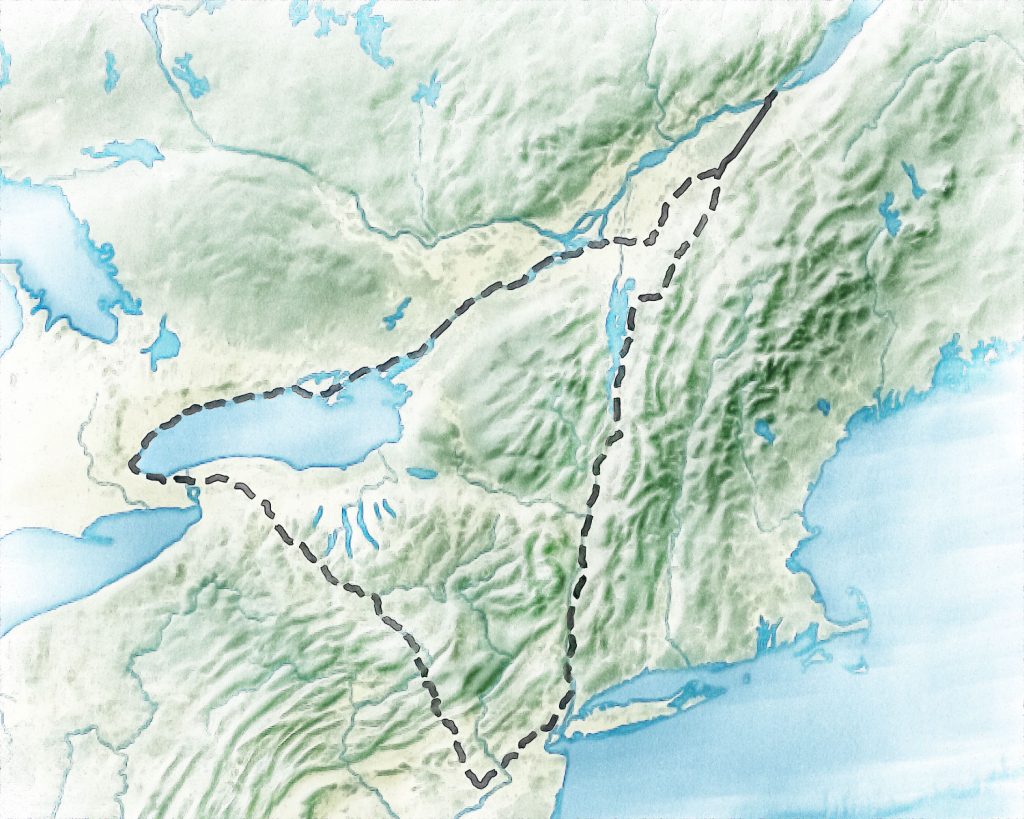 Following the Hudson River to the Headwaters
This bike trip would be uphill. I was looking at routes straight north along Lake Champlain, thinking that this might be where the Hudson starts. The ferries seem to be closed when I would want to go. And Amtrak services, like the Vermonter, seem to be truncated.
Looking at the map, I followed the course into the Adirondacks and realized that Lake Champlain flows north into the Saint Lawrence River. So, I decided that if I had to backtrack I'd rather go into up into the mountains.
The return could come back through the Mohawk Valley back to Albany and Rensselaer (train station).  
Loop –  Albany/Rensselaer to Newcomb is 275 miles. 
NYC Penn Station to Albany is 175 miles
Penn Station to Champlain, NY (by border) is 370 miles, but then you have to turn around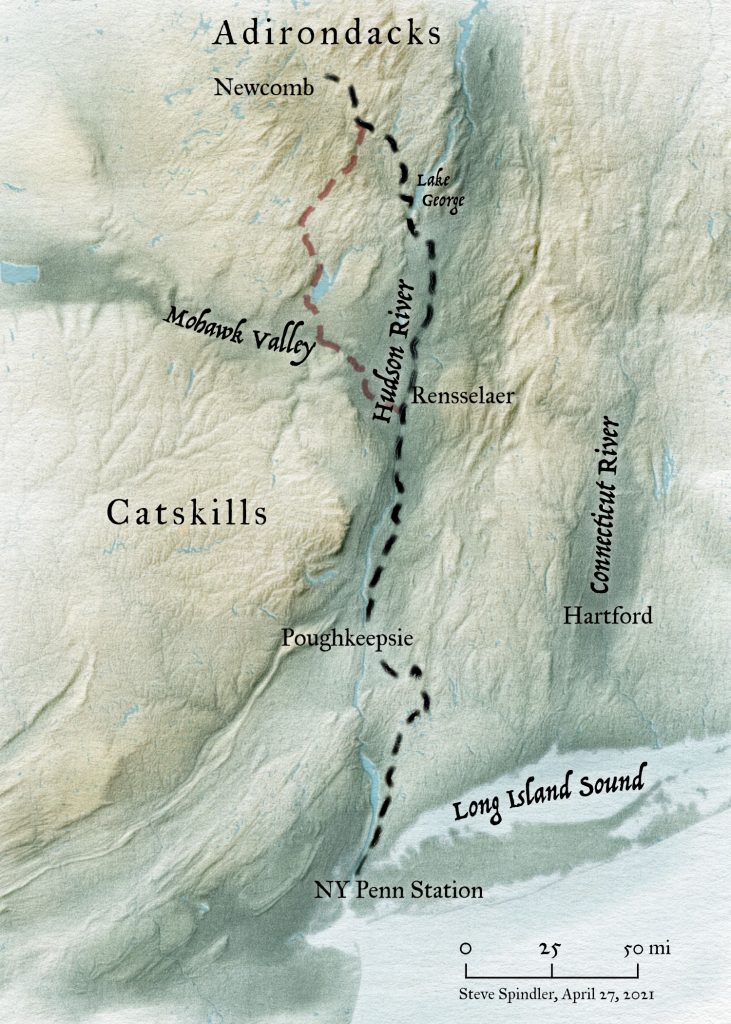 Two, maybe three, separate Hudson River trips
I think the optimal approach may be to do the trip in two trips.  First, we could park at Rensselaer and do the northern loop. Then we could take the train to Rensselaer and bike back to Penn Station. This would enable me to coordinate with others and maybe we could do the trip together. The key barrier to this is my spontaneity. 
Other trips will open up once Amtrak is running north.  A trip around Lake Champlain could be its own trip. It could also be a good trip to drive to, bringing kayaks.
But for now…
Today I'm working on kiosk maps for the Delaware and Hudson Trail, making some edits to some WikiMapping projects, and reviewing map panels for the Parks and Trails New York Guide to Bicycling the Hudson River Valley. 
This week I hope the Burlington County Street Map will go to press. The Delaware State Bike Maps are on press.