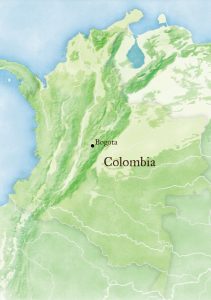 Gerry is working on a historical map of Colombia for a client, and we were looking at how raster data could be loaded directly into Illustrator using MAPublisher's  Map Import – Web Map Service.
When you use a program everyday, you can get familiar with what you know and don't realize that there are options.
So yesterday afternoon, I made this map. 
Because I've been working in Affinity Suite so much recently, it has changed how I work in Creative Cloud.  Each suite of programs has its own strengths.
I know very little about Colombia, but I'd like to go there. Flights from Philadelphia to Bogota seem reasonable. 
Follow up – the next day
Right after posting this originally, I headed to a Central and South American grocery store in Trenton. It was busy, and the cashier didn't speak English. I wished I felt comfortable in a Spanish speaking environment. 
It's one thing to be communicating in Spanish with someone you know, someone who is patient with you. I rely on google translate sometimes, or the people I'm speaking with know enough English so that we can communicate. It's another thing to hear conversations and have no clue. Could I actually learn Spanish at this point in my life?
Along with going to the Central and South American grocery store, I started reading a book about Colombian cyclists – Colombia Es Pasion.  And I'm enjoying it.