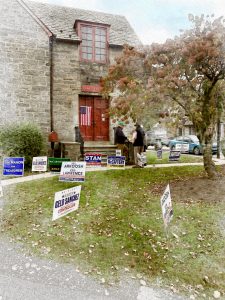 Today may have been our last election at Homestead Hall because the Episcopal Church of our Saviour was sold to Midgard Properties.  The church, which was founded by Noble has served Jenkintown well and has much history.  And I empathize with my neighbors for whom this has been their church home since the 1970's.  I've heard it may become a catering facility.
Our election judge, Annabelle Moreno, has retired from the position after about 23 years.  I didn't see her today and am told she was working.  Many of us were sad to see her depart because she was so committed to doing a great job and because people really like her.  Of course she's not gone anywhere.
About the election results – I wrote down the results and may not have brought them home.  Essentially about 333 out of around 900 voters voted, with 274 being the upper end for the democratic voters.
I learned a lot by talking with Sean Kilkenny, my neighbor and our county sheriff. And then with Deborra, the Cutlers and others.