GPS tracks of my bike rides in May 2018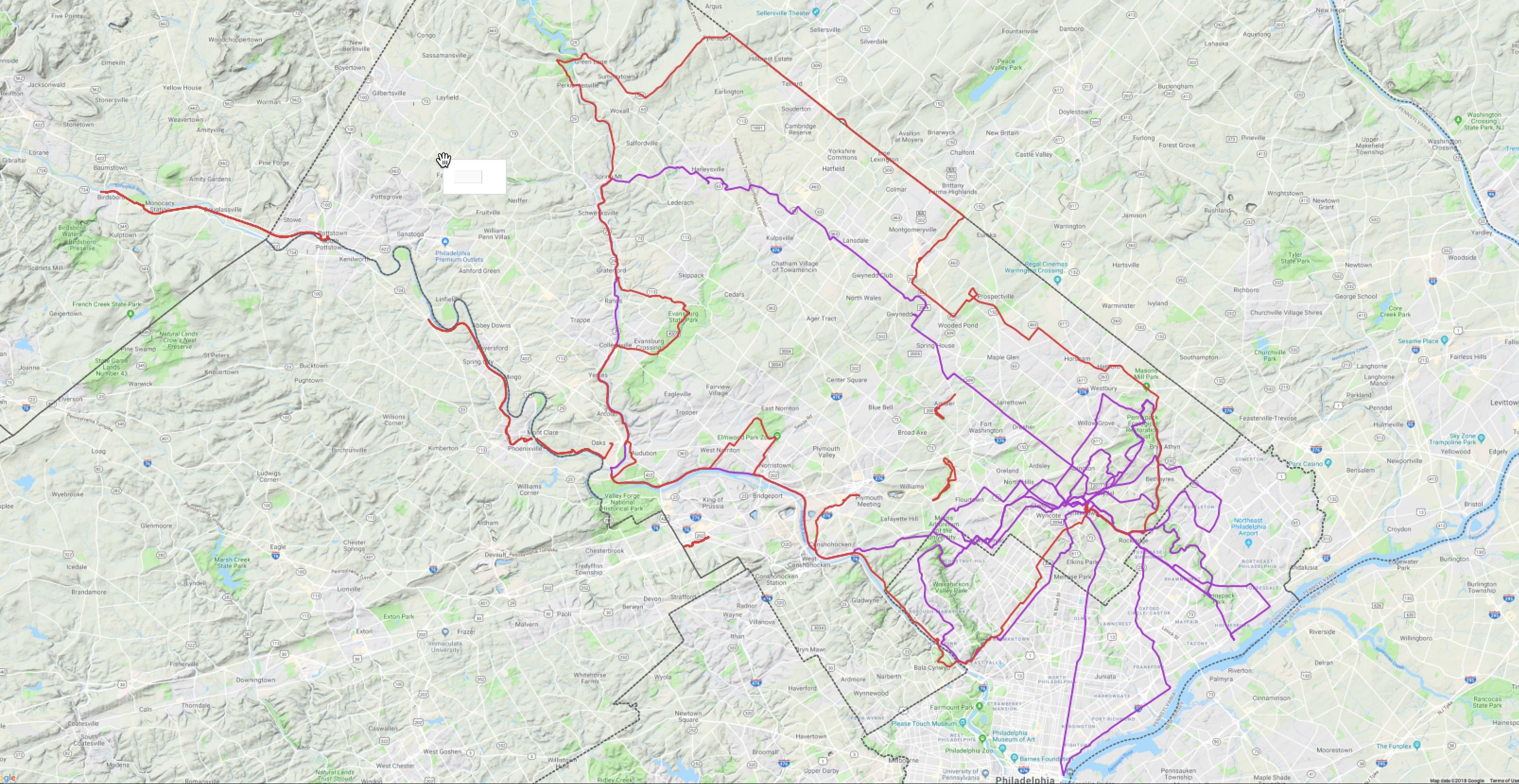 Leading up to Memorial Day Weekend
Throughout May, I biked in the early mornings, finishing before 6:45 so that I could to enjoy roads with few cars. I borrowed a gravel bike called a Fuji Jari, and I had a lot of fun.  It's a high performance, responsive, light bike that is comfortable both on roads and gravel trails.
The week before Memorial Day Weekend, two County Commissioners, Ken Lawrence and Val Arkoosh, spoke at a district meeting held in Jenkintown.  They encouraged people to take the Montco Trail Challenge.  
Side Note – Because the County has restored its AAA Moody Bond rating through fiscal responsibility, capital projects like trails, new voting machines, and bridge repairs cost less.
Even better – There will be a trail to the Pennypack Trail from Jenkintown.
Overview of my Memorial Day Weekend Trips
Day 1 (101 mi):  I left home around 5:45 am and started with the Pennypack (1).  If the Powerline Trail(2) ever connects to 202 (3), this will be great.  From there I went to Green Lane Park (4) by way of County Line Rd, down the Perkiomen(5) to the Skippack(6).  From the Skippack I went through Evansville State Park and saw Cricket being played.  Then to Collegeville for lunch before getting back in the Perkiomen where everyone seems to smile. I detoured to the Audubon loop(7).  Geez, what a climb.  I walked.
My plan had been to go west on the SRT(8) to Phoenixville, but I went east on the SRT and looped up to Norristown Farm Park(9).  From the park, I found signs directing me back to the SRT. I headed to Manayunk and crossed over the bridge to the Cynwyd Heritage Trail(10). It was very hot, so I headed home through the Wissahickon to Washington Lane. Here's a temporary link to my gps map from the first day:
I biked from trail to trail, a loop that started from my house in Jenkintown and included 10 county trails. The trip was 9 hrs and 45 minutes. I drank probably a dozen bottles of water that I refilled along the trails.
Day 2 (42 mi): I drove to Oaks and walked to Phoenixville in the rain on the Canal Towpath (11).  I bought big umbrella at Target and really enjoyed the walk.  From Phoenixville, I biked the Chester County section of the Schuylkill River Trail before driving to Pottstown to bike another 20 mile round trip to Birdsboro (12).  John Boyle told me about a trip service in Pottstown called Pedal and Paddle. I think I saw their trailer. The weather was initially rainy and but ended more pleasant than the hot day.
Day 3(1 mi walk): My wife and I drove to Ambler and walked part of the Wissahickon Green Ribbon Trail before having coffee at Abyss. It was our first time there, and we really liked it. It appears to be a popular stopping point for cyclists.
Day 4(12 mi): I drove to Fort Washington State Park and biked the Wissahickon Green Ribbon Trail(13). Then I biked from Barnes & Noble in Plymouth Meeting along the Cross County Trail (14). I finished up with a quick trip to Valley Forge (by the Home Depot) and rode the short Montco section of the Chester Valley Trail (15). All of these bike rides took less than the time that it took to drive there.
Final thoughts
My preference is to bike from home. At some point,  I'd like to bike the entire Schuylkill River Trail (SRT) from Fort Mifflin to Schuylkill County. We really need hiker/biker campsites along the SRT or at state parks like ones along the Oregon Coast or the Erie Canal.
I drank lots of water and bought a coconut water drink.  But I skipped breakfast, had a small lunch, and wasn't hungry for dinner.
My family wouldn't enjoy my approach to biking the Montco trails, but it was 100% meditation for me (as Sean Connelly put it).
Detours to Chester and Berks County were opportunities I couldn't pass up. Otherwise, I would have finished all the trails on Sunday.
What's next?
Montgomery County has a bike plan that is nearing the final draft. It will hopefully increase the number of on-road facilities to 17%.  I plan to keep biking in the early mornings.