Jenkintown Borough (not necessarily 19046) is a decent place for kids to bike with the exception of Walnut Street and Old York Road.  My girls like to do a loop to Alvethorpe Park or to bike to the Glenside Farmers Market on a Saturday morning.
Jaimee Fitzpatrick's family raised $600 to help the Jenkintown Police buy a new bike through a lemonade stand.  I don't think new bikes are the top priority for the police, but they promote safe youth cycling at school.  And they, along with the crossing guards, do a really good job supporting kids as they bike to school.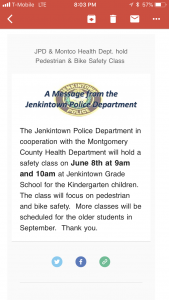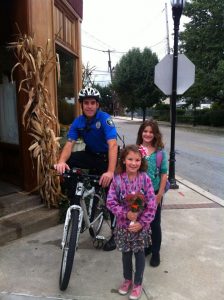 I was talking with Megan O'brien the other day about the need for bike parking at school.  "Get a grant," she said.  My daughter Kate bikes to school, and she's going to be learning CAD in the fall.  Maybe we can create something in Sketchup to show how bike parking could be.  I think a great bike parking facility would help promote biking to school throughout the county.
While more kids bike when the weather is nice, some are biking to school year round, as shown here: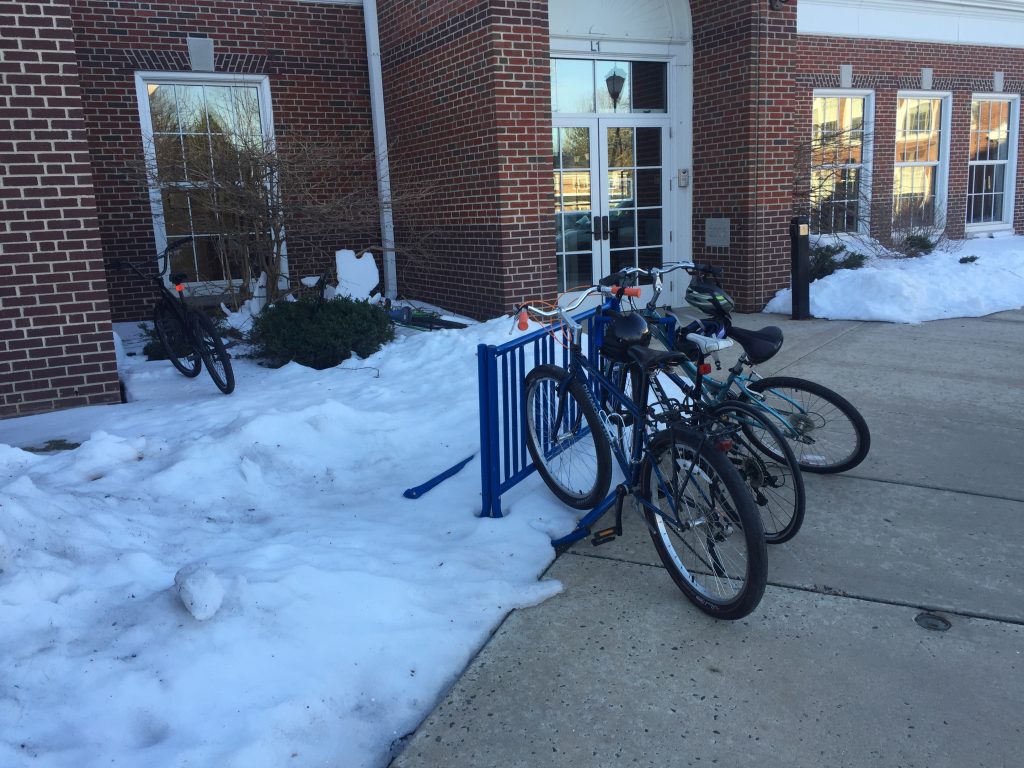 Family bike photos around town
One of the best ways to get kids biking is to bike with them.  I've found that kids like to bike with kids.  So, they like to bike together to school or go on a Saturday morning ride together.
I started riding with my kids to pre-school.  We have a Bike Friday family tandem (that I'm now ready to sell) that would work great with a trailer bike.  This enabled me to bike with both girls at the same time, whether I was pulling a Burley trailer or the trailer bike.
When we moved from Wyncote Road to Vernon Road, Jessica pulled some of her stuff.
These days, Kate's more into bicycling than Jessica.  But Jessica says that this is because she's not upright enough on the old mountain bike I gave her.  Kate, on the other hand, started out on a high end road Fuji road bike with 650 wheels and has graduated to another high end Fuji. We bought her a discounted two year old model, and this saved money. Both girls like riding Sandi's Breezer hybrid with an easy step-over frame, fenders, disc brakes and a rack.
My point is, buying your kid a really nice bike pays off.  Jessica, who has the wrong bike, wants to be driven to school.  Kate, who's got the nice bike, bikes with Natalie, who also has a new light weight Fuji.  In Jenkintown, it takes about the same time to bike to school vs being driven because of the oneway streets.
Some thoughts about biking to school
We have quiet oneway streets, and the girls ride against traffic or on the sidewalks.  The alternative would be to bike on a busy street.
Kids' backpacks weigh about 20 lbs.  That isn't great for bicycling.
Kids do ride on the sidewalks on West Ave. to be away from traffic.
As kids are in their teens, they can rebel against helmets, causing them to stop biking.