Here's an update on my health. I got 3:45 hours of deep sleep last night according to my watch.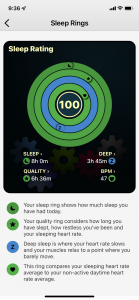 Eating
I think diet is important. My diet is still "Eat real food, mostly plants, not too much." This still means avoiding vegetable/seed oils like canola, soy and corn. Processed foods that included any form of sugar or non-whole grains are out. I do drink about 3-4 cups of coffee, teas, and water. Time restricted eating seems to make a lot of sense – no snacks, more time between dinner and breakfast.  Dinner last night was a tofu stir-fry over white rice, which I guess wasn't a whole grain. It still fits within the "real food, mostly plants, not too much" concept.
Exercise
I'm at a 28 day exercise streak. I decided to stop doing non-stop 2000-4000 yard swims (35 min to 72 min). The pace was like a 1:46 or 1:48/100 yards. Instead, I am doing shorter 100-200 yard swims at faster 1:18-1:23 pace. 
We can learn a lot from people around us. I met a guy in (in his late 60's?) while sitting in the hot tub.  He started lifting weights when he was older than me. He looks strong, not bulked up, but strong. I also benefit from seeing friends on Strava.
Reflecting on my facebook post about health
I don't think anyone reads my blog posts, so I posted on facebook about pre-diabetes and health. 
Living a healthy lifestyle where you are fit, exercise, and eat well doesn't mean that you won't have issues. I learned about MODY (Maturity Onset Diabetes of the Young) from a woman who is a role model to many people when it comes to healthy, active living with her family.  Then again, cancer has affected too many of my friends who also actively cared for their health.
The bottom line is this – There's value in focusing on one's health. It brings joy. It can help connect a person to a sense of community. It prepares you for unknown challenges.  It doesn't mean that you are going to avoid problems.
Sharing
I worked with a few people at church to give a bike to a young Afghan woman who recently came to the US. This was cool, and I now have one less bike in my basement.
Books
I love the book, The Art of Movement. Jim Sayer recommended Kelly McGonigal's books to me. This book offers such a positive outlook on movement in community with others, particularly when I had been struggling with Crisis in the Red Zone (Ebola).