Background
On Wednesday, February 23, 2022, I rode my bike from my house in Jenkintown, which is north of Philadelphia, to Union Station in Washington, DC. I woke up at 3:28 am using my internal circadian alarm, left home at 3:45 am and arrived at Union Station at 6:02 pm, to catch the 6:05 pm Amtrak Regional train to Philadelphia. I was home by 8:45. Mileage was 154 miles. The trip time was 14 hrs 20 minutes. One hour and 42 minutes was spent off of the bike.

Why did I bike to DC? 
I wanted to have the best winter ever, and to do this I would need to exercise daily and eat real foods (avoiding sugar and processed oils as much as possible).  I was technically overweight at 222 pounds (I'm 6'4″), and I was technically in the pre-diabetes category, with a fasting glucose of 101. 
I'm not alone. Ninety-seven million Americans are pre-diabetic, and another 33 million have diabetes. Most of those 97 million don't know that they are pre-diabetic. If you're overweight, you're likely in this pre-diabetic category.
I reduced my fasting glucose out of the pre-diabetes zone and ended up at 188 pounds, 34 lbs less than I was at the beginning of December when I decided to focus on my health. Biking to DC without over exerting myself was a reward that motivated me to get healthy. 
I wanted to answer some questions
Can I bike there without feeling sore? Can I make a 6:05 train home? What do I need to eat? What do I need to bring? Would I have numb feet? Would my arms and neck be sore?  And because this ride had given my winter exercise routine a focus, I had to see it through before the end of Winter (March 20). Ultimately, I wanted to experience the trip and help others by raising awareness about pre-diabetes.
Trip notes
My notes are mostly practical. The trip itself was a not remarkable.
I planned my route using Garmin Connect. It works great except that the elevation profiles were off. I posted to facebook a few times, but I really needed to keep moving.  Anyway, photos on an overcast day in February aren't flattering. The day after the ride, I was back at my computer and the trip felt like a distant memory.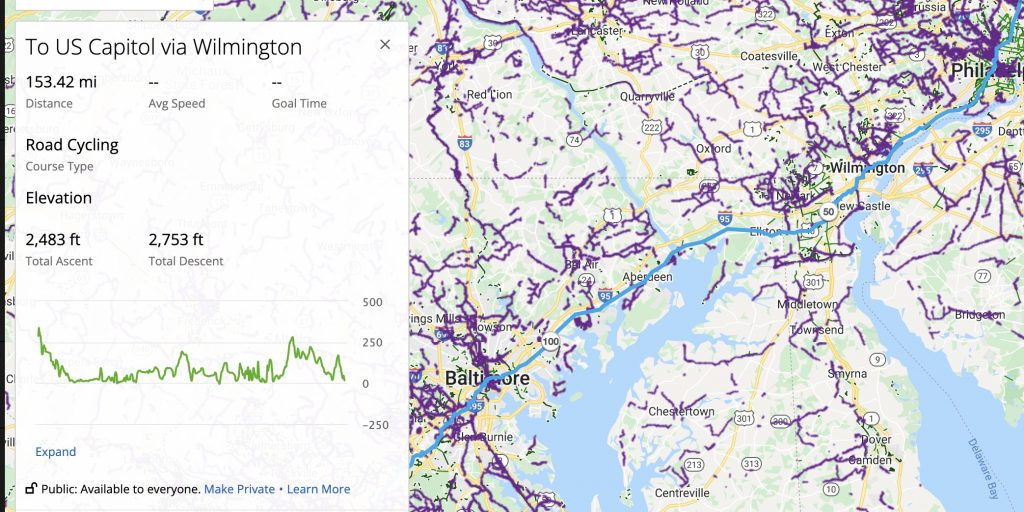 Physically, all went well
I specifically prepared so that my toes would not go numb like they did in October during a 110 mile ride on the Empire State Trail. And by swimming a mile or so several days a week, my upper body didn't get too tired. It was only after a day of sitting at my desk that my outer calves felt a little tight and I had a little soreness in my lower back below my rib cage.
Food and liquids
Because I am used to exercising on an empty stomach, I didn't eat anything until Wilmington (40 miles). Looking out at the Christina River, I ate a small black bean, rice, guacamole and arugula burrito. I brought a few bags of nuts, 1/2 cup each. These were raw almonds, raw cashews, and salted macadamia nuts. After a bag of each, I was tired of nuts.
At mile 96, I stopped along the side of the road and ate a hummus, rice and arugula wrap. I never got around to eating my last burrito.
I avoided bringing Clif Bars, though I like them. Instead I brought three protein bars made of fruit, nuts and egg whites. These had decent flavor. I could have brought some Clif Bars for more carbs, but I wanted to eat real food and to minimize sugar.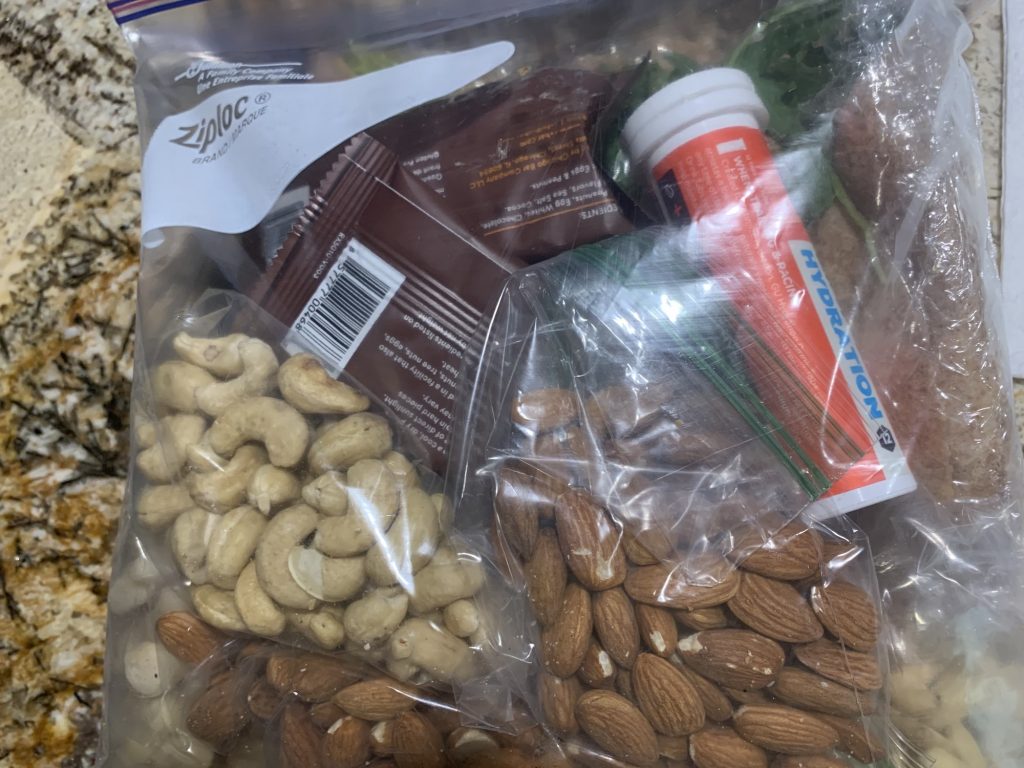 I flavored my water with some electrolyte tablets that you drop in your water bottle. They fizz up and add flavor without much sugar. I drank a total of eight water bottles full, refilling at the Wilmington train station, a Wawa, and a combo gas station/McDonalds. Right before leaving home, I had a couple of glasses of water.
What I wore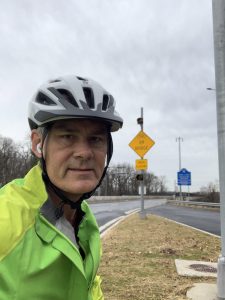 Given that the temperature was 60 degrees when I left home, I wore bike shorts beneath a pair of baggy blue shorts with pockets that held my AirPods, house keys and wallet.
I wore a long sleeve merino wool shirt and a fluorescent green rain jacket from REI that has zippers to let the wind go through the back. I wore the jacket until Baltimore and then put it in my seat bag. During the first part of the ride, the wet roads really mucked up my bike, and I was glad to have the jacket for this reason and for visibility.
I wore cotton running socks and Shimano SPD-SL road shoes with yellow cleats.
And bike gloves and a helmet.
Bike maintenance
Salt and grime from the road got to my chain and made my hydraulic disc brakes squeak a bit. I had packed a bottle of lube and a rag inside a rubber glove, and I re-lubed my chain once. Later in the ride, I should have re-lubed the chain again, but I felt like I couldn't afford the time (which was true).
When I got home, I found glass in the rear tire, but I didn't have any issues while on the road. I'm going to order more Maxxis Re-Fuse 700×32 tubeless tires. I like them a lot.
How I packed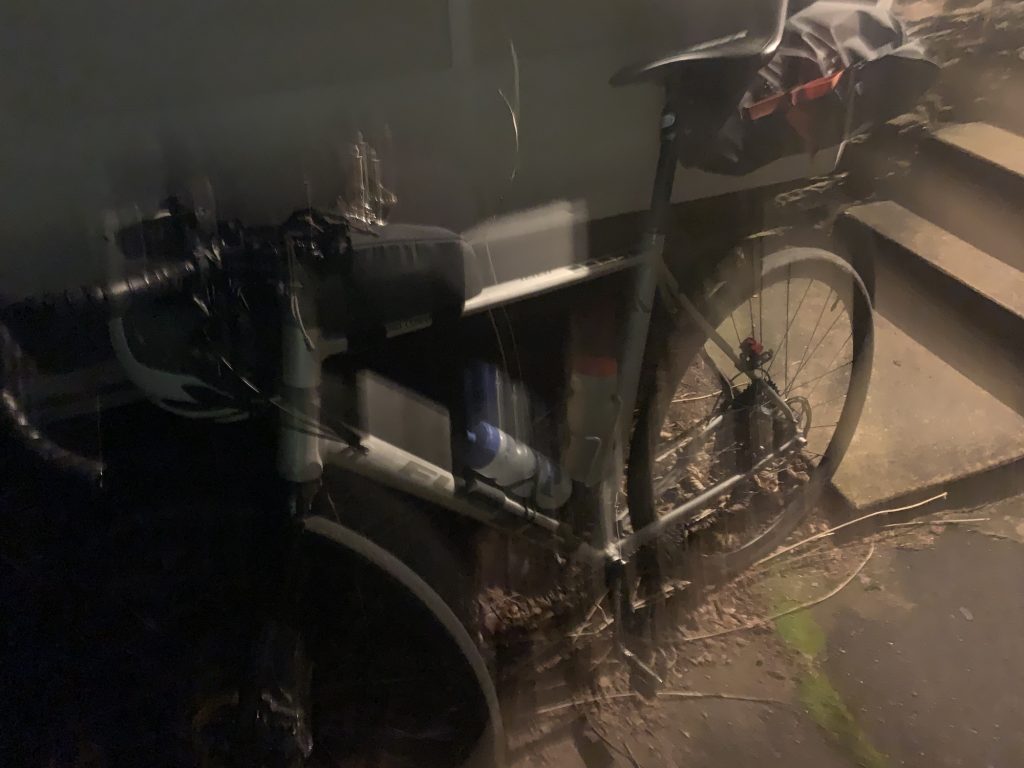 Things I brought and didn't use: bike lock, extra shirt, underwear, extra socks, repair kit.
I had three bags, a fuselage bag on the top tube, a food bag on the inside of my handlebars, and a medium Ortlieb seat bag.
In the seat bag, I stuffed the glove with oil and rag into one running shoe and socks and underwear in the other. I put a T-shirt in first, then the shoes, then a battery pack, and then food. The stuff fit, but shoes and the shape of the bag wasted some space.
In the fuselage bag, I had some protein bars, my phone, a multi-tool, an allen wrench specific to my seat, and the bike lock. Later, I moved the lock to the food bag when I needed to charge my Garmin GPS. That's when I put the battery in the fuselage bag.
Thoughts about packing.
I didn't have room to store my jacket until after I'd eaten a bunch of food. And rather than rolling the jacket up in a ball, I tried to stuff it around the shoes.
I considered bringing different kinds of handlebar bags. A traditional handlebar Ortlieb bag blocks my headlights. The roll bag that goes lower, in front of the bars ,could have been a good option, but I figured that taking less would have been better.
Did I really need to bring running shoes? No, but using the SPD-SL shoes meant that a separate pair of shoes would be more convenient off the bike.
Lights
My rear flashing light was on the whole day. I put it on the rear down tube rather than on the seat post because the seat bag was there.
I had two front lights in case one goes out. But I used both at the same time to better see the road.
Hatem Bridge over the Susquehanna
There were about six expansion joints on the Hatem Bridge. If I had needed to slow down and walk over the joints, I could have. Otherwise I felt like the bridge was easy to cross because it is flat
I crossed a few slippery railroad tracks along the route. You just have cross these at right angles. I encountered some pot holes, recessed manhole covers, hazardous parallel storm grates and buckled pavement.
GPS Navigation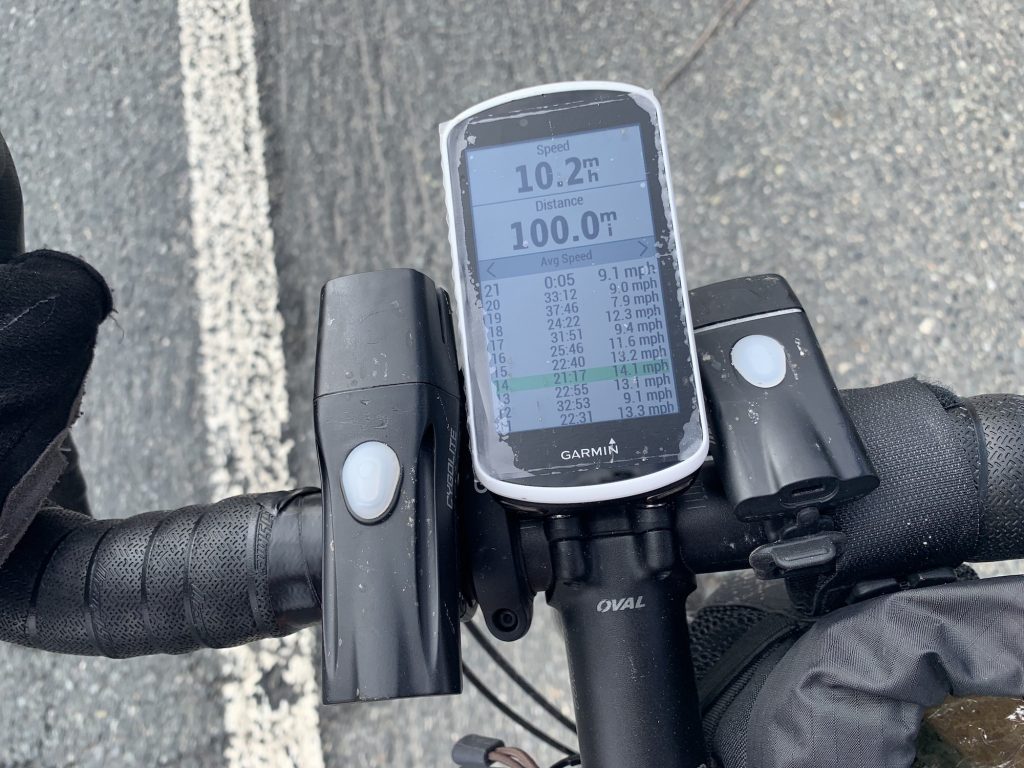 I set up my route using Garmin Connect rather than RideWithGPS because it was easier. Google maps kind of diverts you unnecessarily at times. But I used all of these tools. My preference is Garmin Connect.
The problem with GPS navigation is that sometimes it indicates turns where there is a change in the road data but where there is not really a turn. In downtown Baltimore, the GPS lost connectivity briefly.
Another problem with GPS for me was that I couldn't zoom out to get an overview of where I was. And the power meter stopped working near Baltimore when the GPS switched to battery conservation mode.
I stuck close to the planned route with a couple of exceptions in Philadelphia and in Baltimore.
Traffic
Because I started early in the morning, I missed traffic in Philadelphia. Heading south towards Wilmington, traffic was heading north. Along Route 40, I had plenty of space and traffic wasn't heavy. Heading into DC, again, traffic was mostly heading in the opposite direction.
Wind and hills
I expected headwinds because I looked at the windflow maps. But given the brief window of warm and dry winter weather, I could live with some wind.
I didn't expect the elevation that I encountered. Using Garmin Connect, the computed elevation during route planning showed ascents of 2483 feet. The actual ascent was 6145. That's a difference of 3662 feet. I'd like to look more closely at the data and figure out why there's such a discrepancy.
Travel time vs total time
I left home at 3:45 am. I had computed that I would need to average 11 miles an hour with stops if I left at 4:00 am. As it was, my time on the bike was 12:41 minutes. Total time was 14:23 minutes. So my time off of the bike was 1 hour 42 minutes.
Off the bike, time was spent eating, using the restroom, filling up water bottles, stopping to take a photo, sending a facebook post or text, oiling my chain, thinking about navigation, and unpacking and reorganizing my bags as I consumed food or needed a battery.
I didn't know how long the journey would take, but I didn't think I'd make it without leaving before 4:00 am. As it was, I was onboard the train about two minutes before it departed.
Road conditions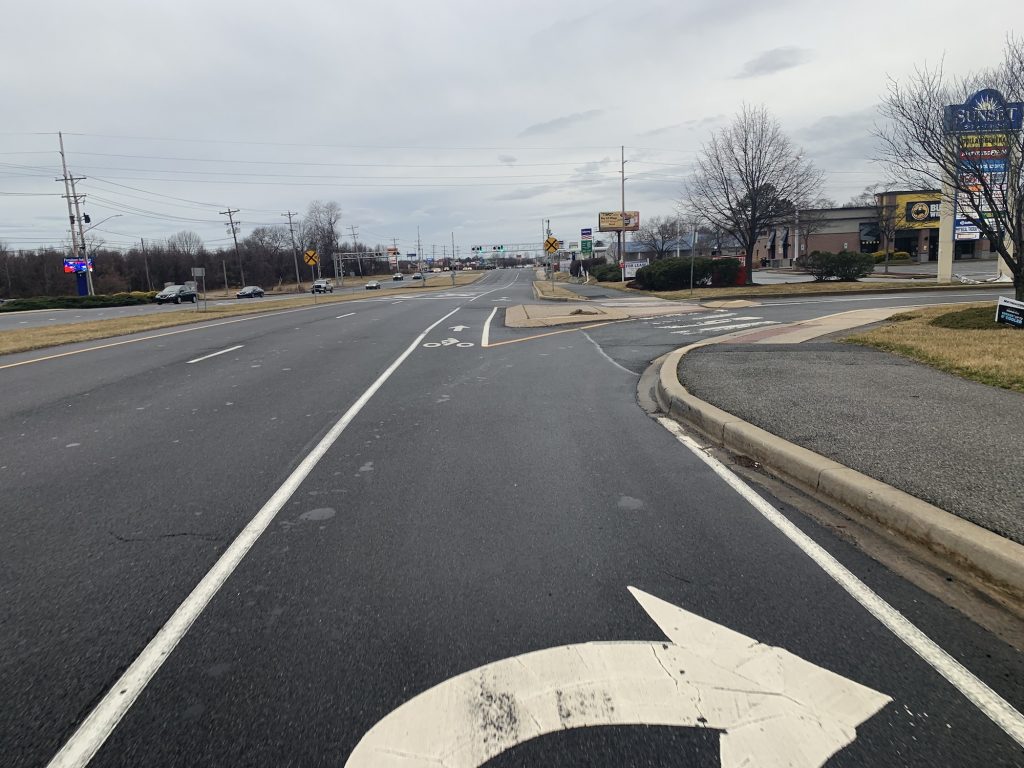 I found the route conditions to be generally good, even on busy roads.
Rail connections home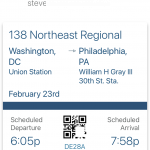 I have the Amtrak App and a SEPTA Key Card. I made reservations on the 6:05 pm train before starting the trip. The reservation was on my phone, so I didn't have to think about that. The train takes about 2 hours between DC's Union Station and Philadelphia's 30th Street Station.
I saw that there was an 8:15 pm SEPTA train from 30th Street Station to Noble, which is two blocks from my house. I got home about 8:45 pm. By this point, I had put on running shoes, so I walked my bike up Spring Street to my house.
Amtrak carries bikes, but not all train cars have racks. I got on one that didn't. There was space across from the reserved wheelchair seating where I could put my bike. It wasn't optimal, but it was better than changing cars, and the conductors didn't ask me to move it.
Back Home – Sleep
I got to bed by 10. My watch shows my heart gradually slowing through the night even though my average heart rate was 67 beats per minute instead of 50. When I went to bed, it was 80. When I woke up it was 60.
Usually my heart rate starts at around 49 and goes down to 46 or 43. So I think that I did put some strain on my body throughout the day. Of the 8 hrs 23 minutes of sleep, 5 hrs 12 minutes were quality. Only 45 minutes of deep sleep.
I got 4 hrs 24 min of sleep the night before the ride, with an average bpm of 51 and 2 hrs 36 min of quality sleep. So this was two nights in a row with only 45 minutes of deep sleep when I usually get 2–3 hours.
I use my AppleWatch with an app called AutoSleep to track this stuff.
Thoughts on diet
Now that I'm home, I crave more complex carbohydrates. Not just green kale/spinach/nut/seed smoothies. I just need to keep eating what feels right.
Post trip – Next goal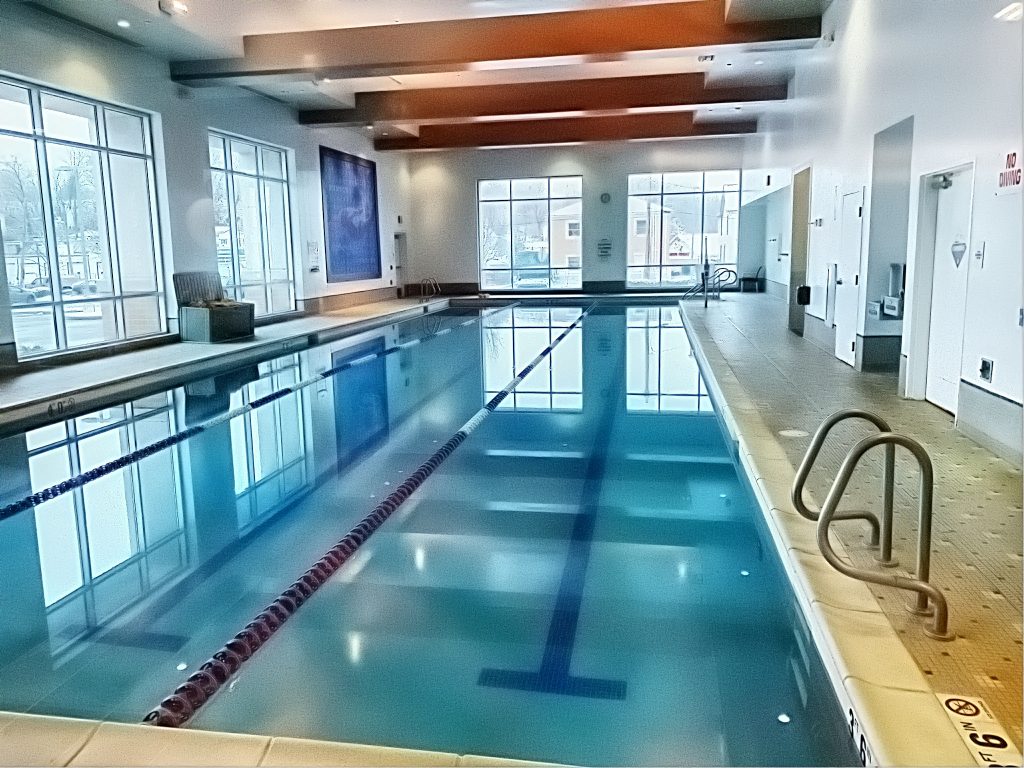 This pool is where I do most of my exercise. And I need to start lifting weights. But my main goal is to get work done.
Better health leads to task completion. So I'm giving myself two to three hour blocks, and each gets its own priority for focus. This is how I can both exercise and complete tasks.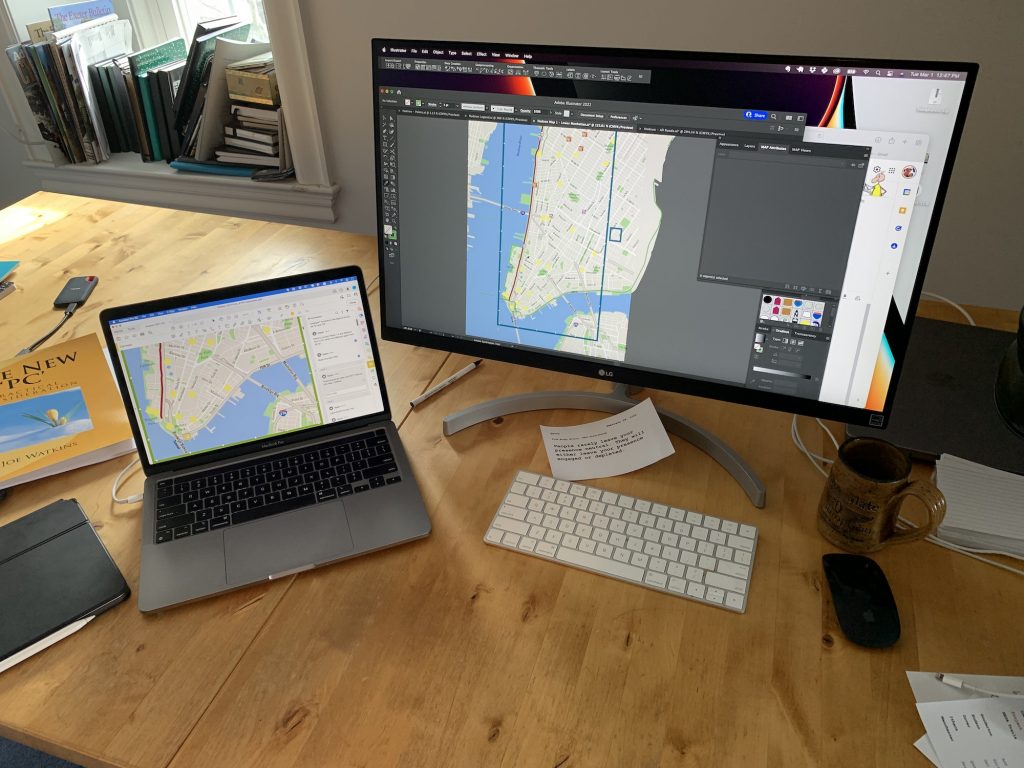 Using two hour blocks, I expect to finish three major mapping projects in the next 10 days. Then I will do a bike-overnight camping trip to celebrate.