Paul Bunting came over to my house the other day to talk about history and to look at maps from philageohistory.org. Paul's interest in history that has broadened my perspectives.  Paul finds something of interest, such as a patent document or book. Then he asks questions that help him understand the context of that document.  As a result, he can convey an perspective of history.
Looking at a patent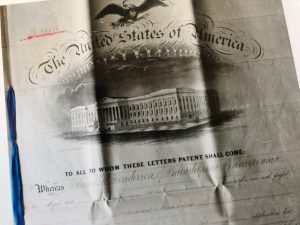 Paul showed me a 19th century patent for a pump, shown above, that he was researching. Where he bought it, he saw another patent that was signed by President Washington and Secretary of State Jefferson.  This is the cover of the patent, which goes on for four to five pages with a handwritten description.
This is where the patent holder had his office in 1862.  The map below would have been off of philageohistory.org.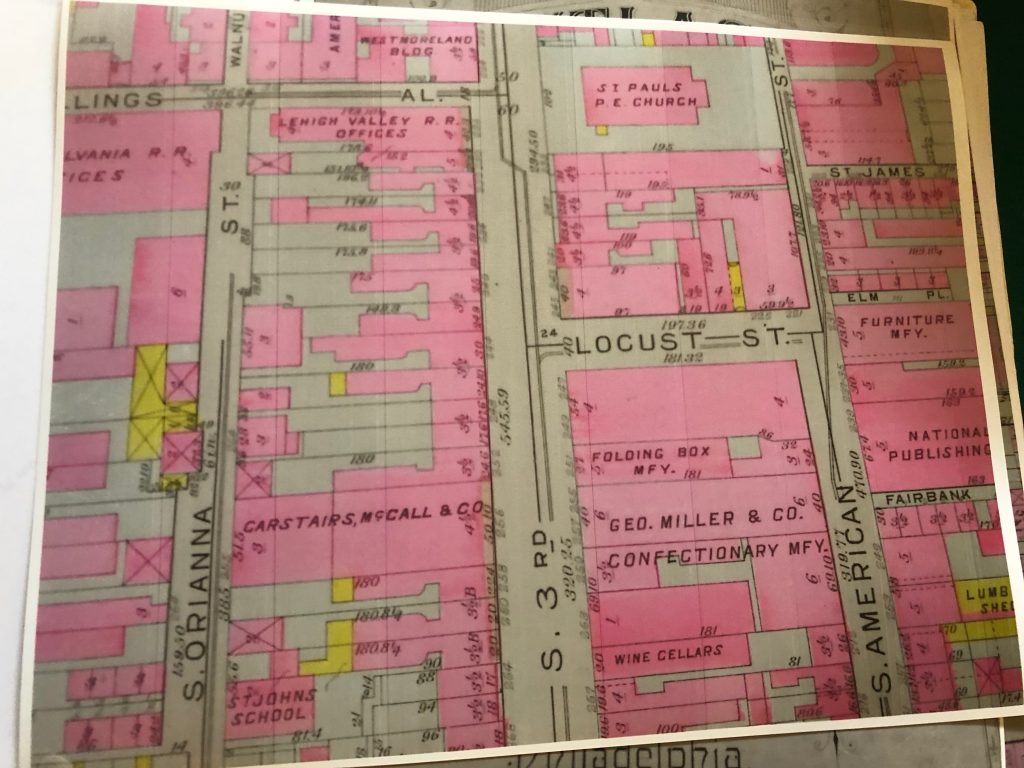 Paul does a lot of searching on the internet, using old maps combined with google maps, like on philageohistory.org and google books.  In this case, he used a google book that contained street resurfacing records to find a street name change in 1894 when Edwin Steward was the mayor of Philadelphia.
But why research this patent?
Paul said, "When I saw it, I was just interested enough in it to get it."  He just used this as a starting point for research.  About a month ago, a friend of Paul's lived in a building that burned down in that area.
Conversation turns to Jenkintown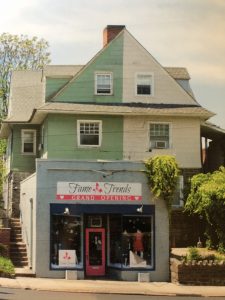 Our conversation took a different turn.  A developer has proposed putting in a Taco Bell on Old York Road in Jenkintown.  This would tear down the original manse for Grace Presbyterian Church.  Paul showed me some photos that aren't particularly flattering.
This building, designed by a well known architect named Horace Traumbauer, was finished in Feb 1905.  It had gas, but they didn't electrify it until 1921 or 1922.  Grace Church's pastor lived on the left side, while the church rented out the right side.
We looked at a 1909 map of the area.  Grace Church, which was expanded in the 1950's.
We looked at the 1909 map, and started talking about Beaver Hill.
---
Beaver Hill
We talked a little bit of the history of Beaver Hill. It used to be the Beechwood Hotel, then the school.  Here's a postcard of the original Beechwood School.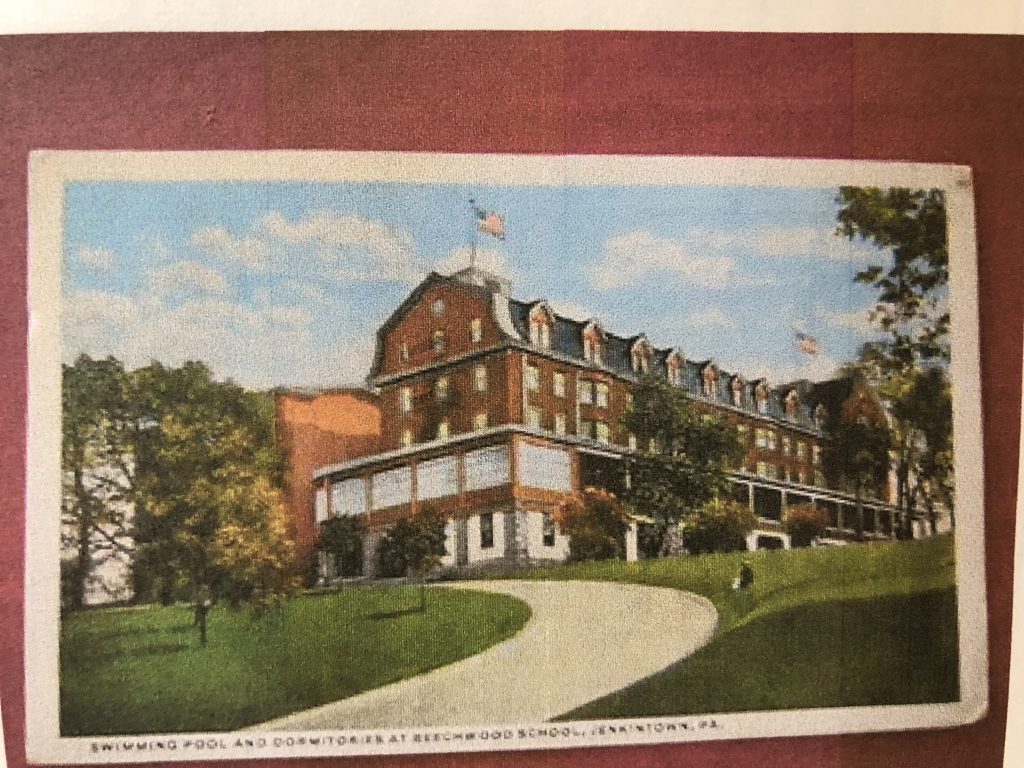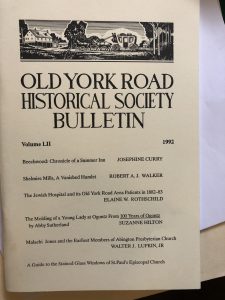 OYR Historical Society did an article on the Beechwood Hotel.  Beaver Hill Condominium is an important part of Jenkintown, providing walkable access to Jenkintown's school and to the train station.
Here's a photo of the bulletin:
Grace Church historical bits
We started talking about John Wannamaker.  He was US Postmaster, and Paul has a document that is an appointment by the Postmaster.  It is signed by Wannamaker.
Grace Church came about because of him. John Wannamaker actually built the first building, which is our chapel now. He paid for that. Wannamaker wanted the church to be on what is now the other side of West Avenue, but there was no property available.
This was the property that they could get. They got it and started a Sunday school there in 1871.
By about 1881, the group that was coming there wanted to establish a church. Paul has text from the various minutes. The Sexton in Abington did not want to allow this to happen. But the presbytery basically said, "Yes." So, it was 1881 when that was started. The property was originally set up with three trustees. One was Wannamaker, and the other two where Abington members who switched their membership to the new Grace church. Wannamaker and his wife were very much involved in the new church.
They wanted a new church that was closer to their house, and there was the population to support it. They used to have a horse drawn racken to go around and pick up people. This was 1870 and you didn't have cars there, so getting there it was easier if you could walk there.
There are four churches that Wannamaker was considered to have started. Grace is the only one that it is in its original location. Others all moved at some point, and one left PC USA a few years ago. He built the chapel, which was the original building. And I think that she gave them the first organ.
Wannamaker had a home across township line. It was his country home, and he had a home in the city. He went to grace church when he was up here. His estate was probably Breyer Estate. I forget where his city home was.
Why did people come to Grace? The Sunday School was growing. When they built the sunday school, they were then in the Jenkintown Lyceum, which is now the Jenkintown Library. They actually had a Sunday when they had a march to the new Sunday School (1871). The one sanctuary was built … The current sanctuary was done in the late 50's early 60's.
The trancept of the right side was the back side of the original sanctuary. Ralph Coleman, an artist… The current church stained glass windows are based on his designs. In the Palmer Room, they are Coleman paintings. There are others. Some of the Coleman family is still around though not members. They've loaned a number of his paintings. He was very active. An elder.
Jenkintown Library was founded in 1804 and moved in there in the early 20th Century and expanded to what it is now. In fact, Paul had a chance… It was quite a few years ago now, the one dealer Paul does a lot of work with sent this catalog out one time – 74 rarities.  "I'm reading down the list. There's a listing showing a book I was trying to find the second volume of."
"I had been told by people that it was a rather rare book. It took me about 2 minutes to go on the phone and say, "Send it!" I opened the cover, and there was a book plate in there from the Abington Library Society. It was one of the first books of the Abington Library. I think that is still the legal name of the library."
It is among the first books that they acquired. It was actually published in 1778, and it is still quoted today.
It was written right after the revolution. How does that change the perspective? It's very interesting. The guy who wrote it, Ramsey, was born and raised in Lancaster County, became a doctor, studied under (?)… He moved south because there was too much competition. He became a leader in that community, was captured by the British and was sent down to Florida.
The British released him and he went back to Philadelphia. When you think of the names of the revolution, he knew all of them. He was active in Philadelphia at that time. At one time, in the interim, just before the constitution. He was the Secretary of Congress at that time that existed under the articles of Confederation.
He also had a brother who actually ended up being one of the paw bearers at Washington's funeral. So he knew all these people. Some of the stuff he saw. Even today, historians writing about the revolution may very well quote from that history. If find it every once in a while.
Google books has a later version of the book. It is called "History of the American Revolution", Ramsey is the name. David Ramsey. 1811 is a later edition of this.
Summary thoughts
A few days later I met Colleen, who works at a rare book seller located at the Frankford Arsenal. She was from Kentucky and is an archivist.  She knew Paul.  It was a nice coincidence, coming back to the present. 
Then, this morning, before I posted this, I was talking with Bill, at Starbucks.  "I lived in that house," he said of the Traumbauer house.  And now I live in Beaver Hill."  I love seeing these kinds of connections.