Using a printed map helps me develop a spatial relationship to a place, but a GPS that offers turn by turn navigation can introduce me new routes and reduce the time that I stop to figure out where I am.
Many years ago on a three day trip to the Lehigh Gorge from Philadelphia, I recall standing at an intersection.  There wasn't a street sign for reference.  My highlighted photocopy of a Delorme Atlas required a lot of effort and paper to put together.  The scale wasn't even large enough to show road names.
In my car, I'll use my phone for navigation just because of the real-time traffic.  I'm wary of letting a device tell me where to go when I could figure it out myself.  But I also appreciate finding a new route from time to time.
This morning I did a 18 mile loop from Jenkintown up along the Powerline Trail.  Using RidewithGPS.com, I'd plugged in a route to Doylestown and figured I could return midway. That's what I did.
Within five minutes of leaving my house, I was taking a route through neighborhoods that I'd never used.  It got me off of Old York Road.  Later, the GPS took me through another neighborhood I'd not been in, passing a barrier to cars along the way.
I turned off the course (route) to make my way home.  At first the GPS tried to redirect me to the course.  But I stopped the turn-by-turn navigation by pressing a little stop sign icon and let the GPS track my route.  The was still a map/speed on the screen.
The benefits of a dedicated GPS
The key benefit of a small GPS for navigtation is that it will work for up to 10 hours at a time, longer if I set the screen to turn off.
I like to take photos with my phone and keep it in my pocket. If the phone is mounted to my handlebars, which is pretty simple, then I have to take it out of the holder to take a photo.
Isn't a phone better?
The iPhone 8 battery seems much improved, but battery life is still longer on the GPS.  I've decided that if I'm going to do a full day ride, I'll bring a solar charger.
I don't want to leave my black phone in the sun all day.  Have I justified the GPS enough now?
I'm new to using a dedicated GPS unit
I used a GPS several years ago, but it wasn't as good as my iPhone.
So for the last several years, I've used MotionXGPS on my iPhone, not for turn by turn directions though.  When I first used the Garmin 820 on the bicycle ride from Jenkintown to Cape May, there were a couple of times when I didn't really know where it was taking me. I hadn't familiarized myself with it.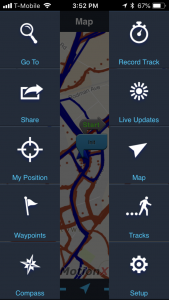 Why I bought the Garmin 820 specifically
I watched the Bike Radar review on YouTube, and I saw a lot of negative comments about the 820.  But it was only $315.  Sean has the 520, and he's had some issues with weather.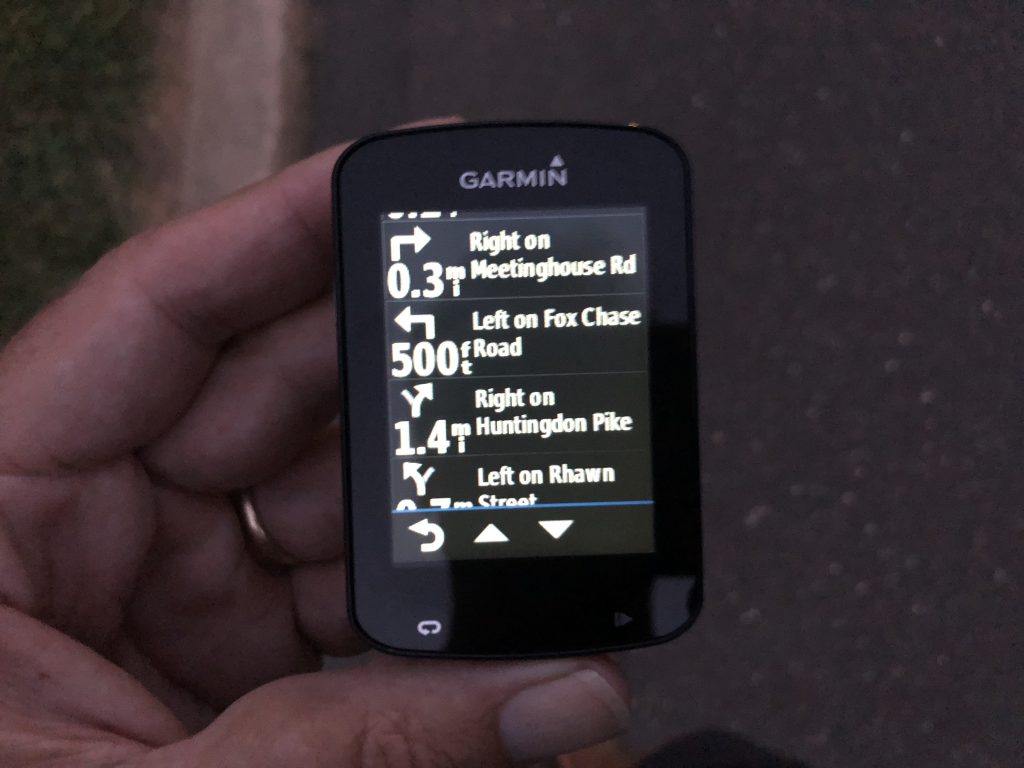 My needs
I thought I wanted to use a GPS for just a couple of things:
Simple navigation like I'd have in a car so that I can reduce time stopping to look at a map or phone.
Track my routes –  average speed, elevation & temperatures were a bonus.
My experience using the Garmin
It takes several seconds to compute the selected route when the route is 100+ miles.  When I imported the a .tcx file to George Washington Bridge, it seemed that I wasn't getting road names at first.  Then I imported a .fit file.  The first few turns didn't have road names, but they soon did.
There is a Battery Save Mode that I didn't use on our trip to Cape May last week.  The battery lasted almost 10 hours without Battery Save Mode turned on.  With it on, the screen goes dark until just before the next turn.
Heat map documentation
I'm curious about the heat map on Garmin Connect.  It provides a sense for where people are using their Garmin devices the most.  As a general reference, it's helpful.  But I think that if you're trying to go someplace that's not a popular route, it may not be so helpful.  There's a huge area in Philadelphia where the heat map shows nothing.
Documentation about Garmin Connect Heat Maps seems to lack details as to what the heat map is really showing.  It simply says:
When you're exploring courses and activities or creating a new course, you can use a heat map overlay to see the most popular locations for running or cycling in a particular city. This helps you find a new spot to work out or a good place to meet up with friends.
Garmin Connect Popularity routing
When I try to create a route in Garmin Connect, I often get a message saying
Popularity routing is not available right now.
This seems like it could be a useful feature to quickly determine a long distance bike route to your destination.
Using RideWithGPS instead
I wondered if I should be using RidewithGPS instead of Garmin's route creation.  RidewithGPS has routes with helpful descriptions.  For example, here is a route to Ocean City from the Delaware Valley Cycling Ambassador Directory.
While I had been paying $6 a month for the last couple of years, I decided to pay $50/year.  This enables some extra features using the mobile RidewithGPS app on my iPhone, printed cue sheets, and turn by turn directions on the iPhone.  So I think this would save battery.
I find RidewithGPS's interface a little easier to use than Garmin Connect.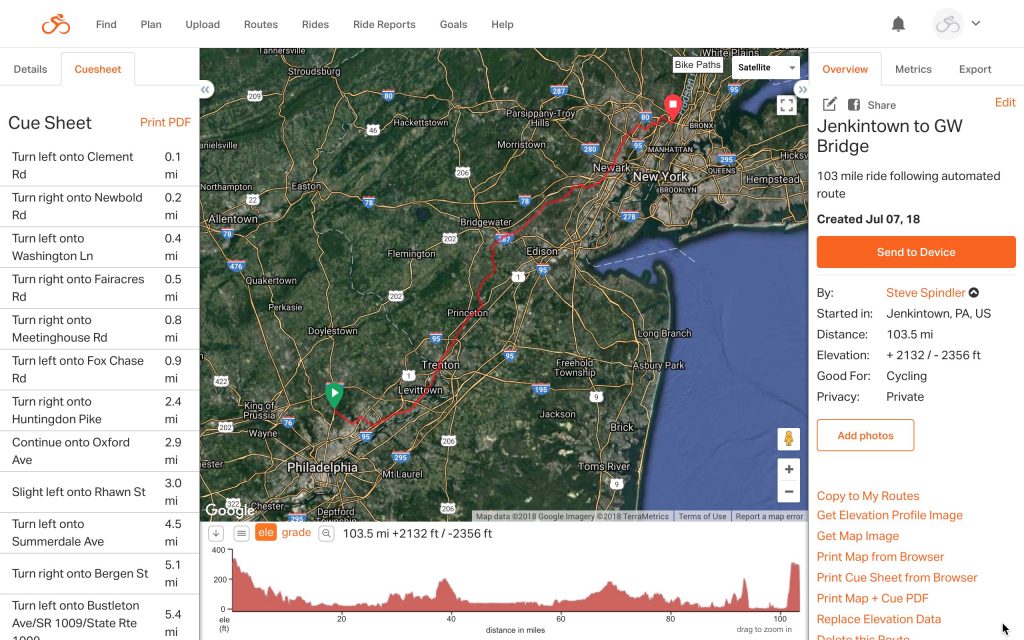 What will I use going forward?
While I had an app that would save my routes in once place, what I needed was something like google bike directions that could be anchored to a specific route.  RideWithGPS App offers this.  The Garmin Connect software offers this.  And the Garmin 820 works with either website, RideWithGPS and connect.garmin.com.
Because both the Garmin and the RideWithGPS app track routes and use turn-by-turn navigation, they seem interchangeable for short trips. I think that, as long as I keep the GPS charged, I will use it.  It's easy enough use the GPS to track my route.  I think it would help to create a library of routes to give me inspiration for my morning rides.
I don't need a GPS to get on my bike and go.  But programs associated with the GPS devices or programs can help me figure out new places to explore. And it's exciting to constantly track where I go on the bike, partially so that I can show others routes they might take. When the GPS is on the bike, it's easy to record.  When GPS is on the phone, it is easier to share.
Well, sharing is easier when I have the GPS set up with bluetooth and wi-fi. I have these turned off at the moment to conserve battery. But from the documentation, it seems that sharing to Garmin Connect on the phone should be easy.
Future area of focus
To plan my routes, I may use RidewithGPS.com more than Garmin Connect on the computer.  Using these programs on the computer in the evening before my ride will give me a better platform for view the route. Also, I can create a route directly on the iPhone using Garmin Connect.  There are a lot of options that encourage me to get out and bike.  That's a good thing.