Some background
On Friday we biked from Jenkintown, PA to Cape May, NJ.  My 12 year old daughter Kate was one of seven cyclists, and she went 70 of the 107 miles.
Kate and I talked about our experience the next day.  Would we do it again? Yes… Hopefully on a cooler day. Would Kate's friends want to do it? Natalie maybe. She likes to ride a bike but not necessary long distances.  Kate said other friends don't have good bikes.
What is Bicycling?
For me, bicycling is social even if I'm riding alone. Moment after moment provides environments you interact with but don't control. Throughout the day, you go from thinking about your self, to thinking about the places you visit, to dealing with challenges of traffic, navigation, staying hydrated, eating, dealing with sun and exhaustion. Bicycling ultimately offers joy.
Our destination? Cape May.
We started at our house in Jenkintown. Our route?
Urban neighborhood streets, a monumental bridge,

Camden revitalization, a comfy town with amenities,

Strip shopping,

Trails

Roads with wide shoulders exposed to sun or narrow shoulders with some shade,

The oasis of a gas station with ice or a Wawa with a tree,

An amazingly friendly and well-stocked bike shop,

More trails,

Abridge into Cape May, and

A welcoming destination.
Who does a trip like this?
There were seven of us bicycling, celebrating PJ Cunnane's birthday with a ride to the shore. Pat and Stephanie flew in from California. Alex drove up from North Carolina. Juliet, whose bicycle riding experience was a spinning class and had only ridden a road bike once before, came from Chestnut Hill.
As for me and Kate… Bicycling is our father/daughter thing. A shared experience that we value.
Kate is self-motivated. She leans into challenges, and she takes pride in what she does – in dance, in her friendships, in school, and in her own projects. When I asked her if she'd like to do something really hard, she said, "Sure. I don't have any other plans for Friday."
"Really? You're sure?" I asked. She was in.
With us in spirit
PJ's wife, Madeleine, met us along the way and sprayed us with a bottle of champaigne when we arrived in Cape May. PJ's son Harry went into work and drove down afterwards. We used his pickup as the sag vehicle. And my wife, Sandi, was up early to send us off before she went into work.
Coming together
Every year since 1970, PJ Cunnane has biked to the shore. Usually, it's his birthday. His route passes by my house in Jenkintown. So, when he mentioned that he had a few "newbies" riding to the shore on Wednesday and if I'd want to join the ride, I was all in.
Except for one thing… "Can Kate come?" I asked. Her longest day on a bike was probably 25–30 miles. She's not fast, but I thought should could do it. Mostly, she bikes the 3/4 of a mile to school with her friend Natalie. It was a matter of how fast she would go.
PJ made it possible for Kate to ride
Since the group was getting larger (because of Kate and me), PJ figured we needed a support vehicle for safety. This solved logistical issues, like Kate and I getting back to Jenkintown in the evening.
PJ asked Gerry Casale, an Eagle Scout and bicycle industry expert, to provide support and carry any additional gear and ice cold drinks. Gerry provided first class support and a generous personality.
Coming up with a route
Our 100+ mile route could either cross the Tacony Palymra Bridge or the Ben Franklin Bridge. I chose the Ben Franklin Bridge. PJ said it would be iconic, and I thought we'd have better roads than if we crossed further up the Delaware River.
I put together a route and called John Boyle at the Bicycle Coalition to ask his thoughts. John gave me confidence and made the route better.
Navigation
I'd been discussing navigation systems with friends, and I decided to test a Garmin 820 GPS to add turn-by-turn navigation. The website connect.garmin.com lets you draw your route and then transfers this route into the GPS.
Turn-by-turn directions got us to Camden. In New Jersey I got off of the route. I used google maps on my phone and my own knowledge of the area along with the Garmin.
Closer to Cape May, PJ had a good route to follow. Overall, the route was pretty good. Note to self, it helps to have 10 mile benchmarks when you're working with a SAG vehicle. Honestly, I'd probably put the route into WikiMapping next time.
The night before the ride
Pat called at 8:30 to confirm our 6:05 – 6:15 start.
I still hadn't used the Garmin 820. And Kate's disc brakes were rubbing. To fix the brakes, I watched a Spin Doctor YouTube video produced by Performance Bicycles. I spent the evening testing the Garmin and aligning disc brake pads.
With preparations completed, I went to bed.
Map of the Route until the GPS ran out of battery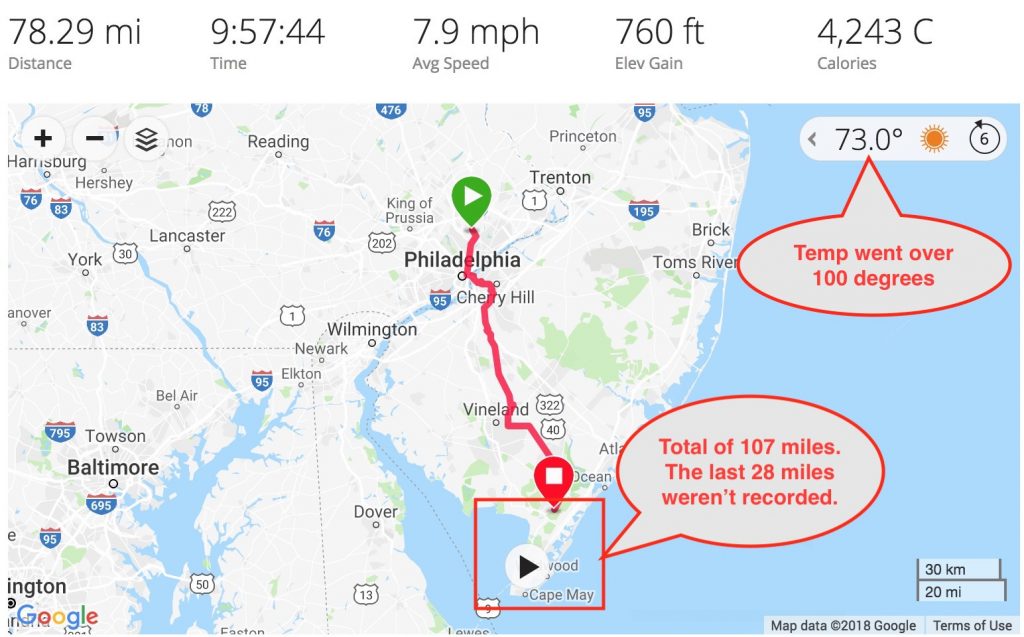 The start
PJ and the others biked up to our house at 6:15 am. Before we left, Sandi took a photo and PJ covered bicycling safely as group. I was impressed and appreciative of the way he set expectations. Aside from safety and communicating, rules included: "Drink before you're thirsty and eat before you're hungry".
Bicycling into Philadelphia
From Jenkintown, we took New Second Street through Cheltenham. Biking in Philly to Center City, we chose Fifth Street and then Sixth Street. Fifth Street had bike lanes. Sixth had a bit of congestion.
Sixth Street would be ideal slightly earlier, before the traffic. And I would approach Ben Franklin Bridge directly from the north side rather than crossing under 676 on 6th Street where there's fast moving traffic.
The Ben Franklin Bridge
From the bridge, you can look Old City, the riverfront and ocean going ships on the Delaware. The walkway is open to walkers, runners and cyclists.
Looking up at the bridge architecture, Kate commented, "That's high." We stopped midway across the bridge and Alex took videos to post on social media for Bike Nashbar.
Camden to Haddonfield
Coming off the bridge in Camden, the GPS tried to reroute us. I knew where we wanted to go, Haddon Ave to Kaighn to the trail along the Cooper River. I stopped relying on the GPS and used my mental map. As we rode along North Park Drive, I googled a restaurant stop in Haddonfield.
The Bread Board popped up, and we followed google maps to there through a pleasant neighborhood. I had a breakfast burrito. Kate had pancakes. As we left, Stephanie said, "I'd come here to eat lunch."
While we ate, PJ added water an additional water bottle cages to Kate's bike.  We were going through water quickly in the heat.
Finding a Circuit Trail
I went over our route with Gerry and we picked a rendezvous  about 10 miles south. Then I strapped my iPhone onto my handlebars next to the Garmin, and we followed it. As long as we were close to the route, the Garmin and iPhone synced. When off the route, they contradicted each other. At least the GPS tracked where we were going (for documenting the route).
Our route turned sharp right off of Route 168, bringing us to the Gloucester Township Health and Wellness Trail. The provided a respite from traffic and had both bikeshare supplied with Breezers and a repair station. I appreciated shade along parts of the trail.
From the Trail, we rode along Route 42 to Route 40, stopping for more ice and water.
The roads heading south were busy but had a wide shoulder.
Lunch
It was hot. My GPS tracked the temp at 98 to over 100 at times. To follow Robert's Rules of Bicycling, "Eat before you're hungry" rule, we figured we'd stop at the next available restaurant. It was a BBQ place. This wasn't going to work.
I googled "Wawa", a dependable stop with options for everyone.
Playing it safe
My GPS says the temperature was in the high 90's and low 100's. Some roads had little shoulder with high speed traffic. With this in mind, I suggested that Kate could ride with Gerry. She appreciated this, and it didn't detract from her experience. Kate kept Gerry company while Pat and I pressed forward to catch up to the group. After a rest, she'd be back on the bike.
Tuckahoe Bike Shop 
While at lunch, PJ called ahead to the owner of Tuckahoe Bike Shop.
The Tuckahoe Bike Shop was welcoming. They had drinks, and refreshments with a tall table to sit at. They had Bike Tuesday cruisers on the front patio that Juliet wanted to photograph. They had electric folding bikes. They had a 17 year old cat. They had a really nice workshop. The high ceilings, lighting and air conditioning and wooden floors made the ambiance welcoming.
The last 28 miles
After the ride, Stephanie said in her video interview with Alex, "The last 30 miles were hard." Seeing her ride, you never would have known this. It's hard to feel someone else's exhaustion, and I really think we all felt a little different.
PJ's route from Tuckahoe took us onto a trail outside of Cape May. And at Joe Canal's liquor store we stopped to take a photo before crossing the bridge over the canal into Cape May.
Wrapping it up
Once in Cape May, a shower felt good. I wasn't hungry because of the heat, but I drank some water and enjoyed some of the quiche that Madeliene had set out. Kate had a Dr. Pepper and some quiche. Alex, Pat, Stephanie and Juliet jumped in the bay before coming up to the deck.
Gerry, Kate and I returned to Jenkintown at 8:15. I drove, and we were home around 10:30. Gerry gave me a sense for what it is like for his department to service 5000 bike shops around the world. It's a job he takes pride in.
How do I feel after the ride?
I feel really good. I enjoyed the company of everyone in the group.  Biking to Cape May was something I wanted to do, and I'm really glad this is how it happened.