A 2009 article from  Bicycle Quarterly reviewed the Breezer Finesse, a high performance commuter bike.  When JT Burke worked as the brand manager for Breezer back in 2010, he loaned me a Finesse to try out. I don't buy bikes all that often, but I liked the Finesse so much that I bought the one I was using.
Last month I wrote to Joe Breeze.  I told him that I was still enjoying my Finesse, and he wrote back: "Glad to hear you're enjoying your Finesse. That's my town bike too!"
My thoughts on the Breezer Finesse
The dark blue, beautifully crafted bike is perfect for riding to an important meeting. It has the class of an upright bike that might be leaned against a hedge somewhere in the Cotswolds, though it has a kickstand.
I ride this bike into Temple University or on rides generally less than 25 miles, sometimes further, most of the time less. I think I've change the grips once.
What I've enjoyed
1. It's comfortable and has been a great around-town bike. I feel relaxed riding it.
2. The ride is so smooth.
3. I like the handlebars very much, though I rarely use the bar extenders.
4. I've appreciated the hub generator lights because I don't have to think twice about riding at night.
5. The lights are bright.
4. I've never gotten a flat.
5. The hydraulic disc brakes have worked well and required little maintenance.
6. The wheels have never gone out of true.
7. Quiet.
8. You can shift while at a stand still.
Weaknesses
The rear rack, which JT offered to replace for me, doesn't accommodate a mesh grocery basket because there's not support to keep the basket away from the wheel. Other than that, I would rather have had a rearview mirror than a bell.
Is this a high performance commuter bike?
I would call it a high quality, low maintenance, pleasant-to-ride bike for trips when you're not in too much of a hurry. It's been good for running quick errands within a hilly three mile range as well as a lot of rides in the 30 mile range.  It has worked well on rough surfaces (like on some off-road single-track around Green Lane Reservoir) and bumpy roads.  The wheels have never gone out of true. I've never gotten a flat tire or had mechanical issues.
Who is the audience? Me.
I perceive myself as the audience.  I want to experience a relaxing trouble free commute on an upright bike, whether this is a half mile or ten miles.  I may sometimes ride 50 miles, sometimes go on crushed stone trails, and often wear long pants.  This has been my primary bike over the past 8 years.  I don't care about high speeds, and I need to ride when it is dark and rainy.
Is it worth paying a $600 premium for the experience, lower weight, and probably some speed benefits over the Breezer Uptown?  The Bicycle Quarterly article suggested that the Breezer Uptown might be a better value at about $640 less (about $1160 for the Uptown vs $1800 for the Finesse). Although both models have lights, fenders and 8 speed internal hubs, they convey a different aesthetic.  Here are images of the Finesse and the Uptown as shown in the Breezer bicycle archive. The Uptown is a nice looking bike with smaller wheels, and I probably would like it too.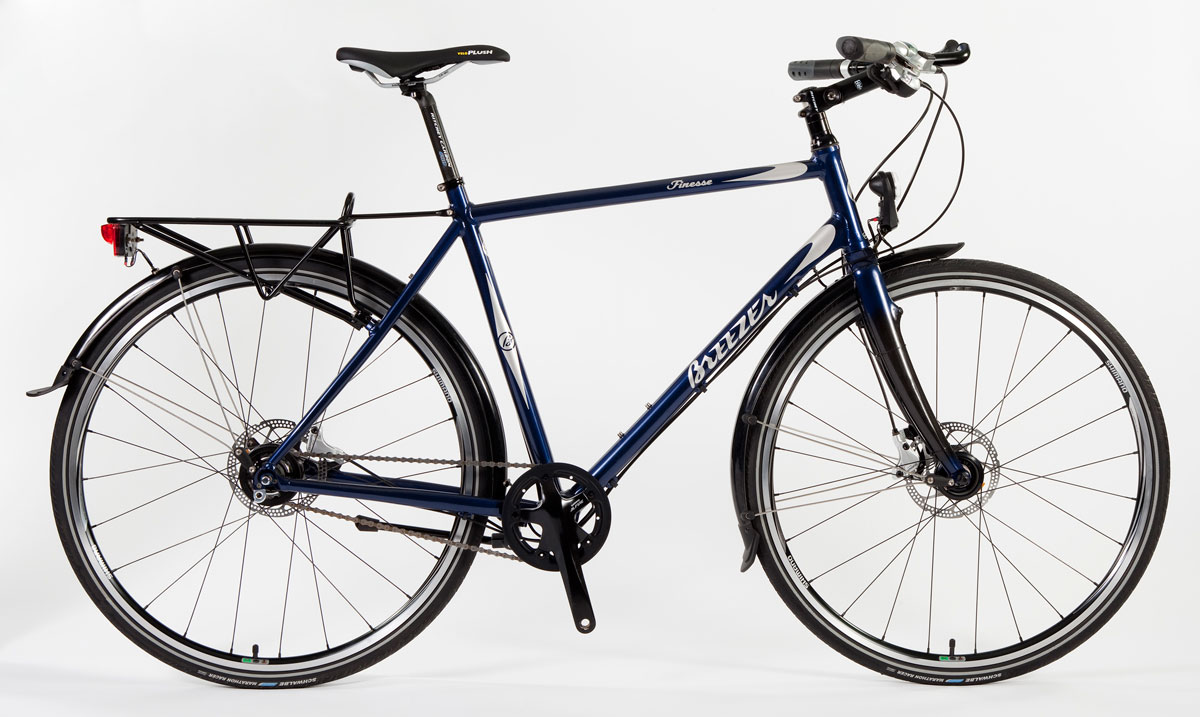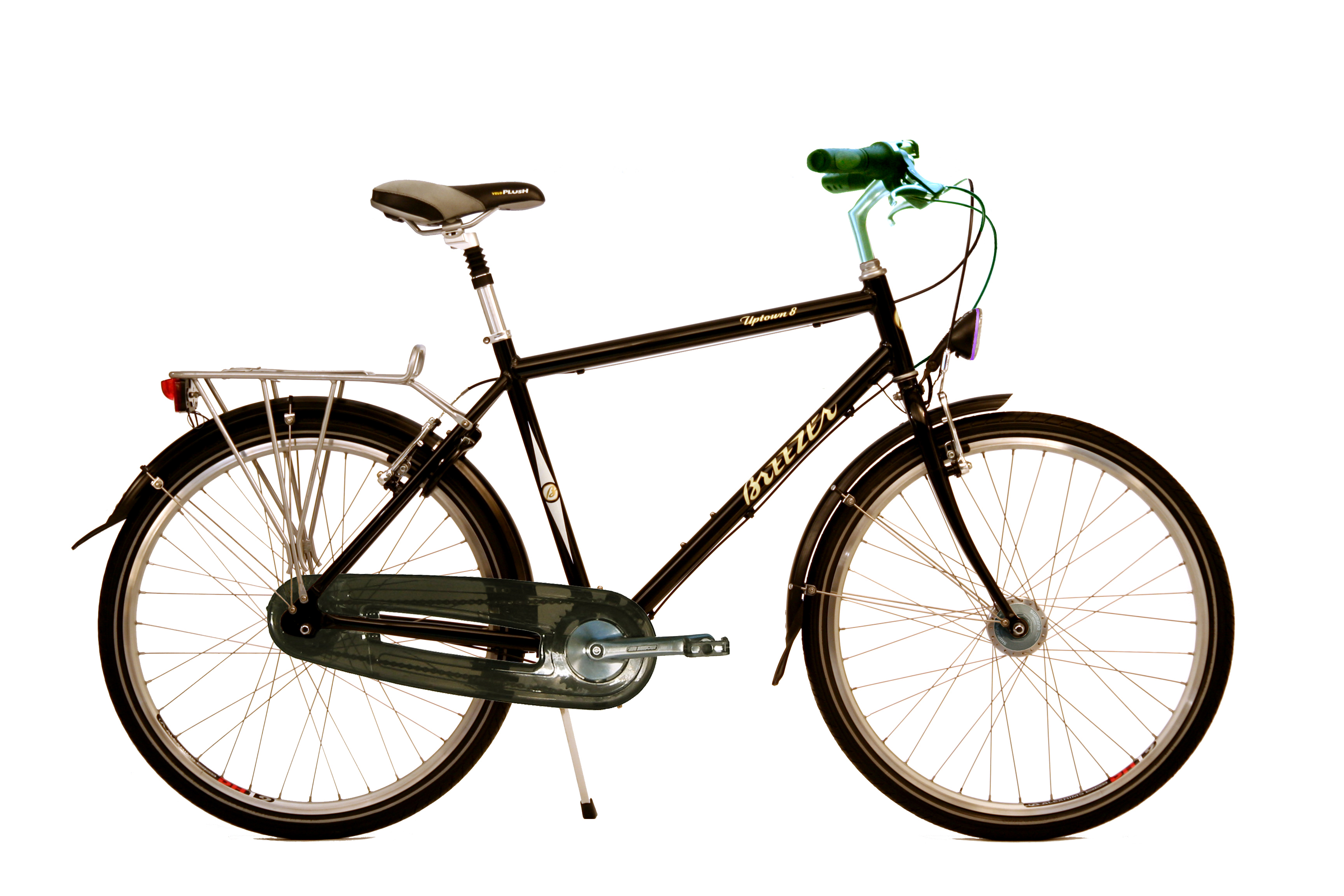 The Finesse conveys more of a high performance aesthetic, with its carbon fork, high end components.  The frame still looks about the same after 10 years.
Here's are my assumptions:
I'm buying a bike that I'll have for 10 years.
I'll ride this to meetings and want to make a good impression.
I'll use it mostly for short trips but also for 10 mile one way commutes from Jenkintown in to Center City.
I'll use it for .5 mile trips to the grocery store.
I'll ride it with my family.
I'll sometimes go on 50 mile rides.
I have $1800 to spend on a bike
Low maintenance costs.
Cost Comparisons
Ten year ownership:  $1800 for the Finesse over 10 years is about 50¢/day for the Breezer.  $1160 for the Uptown over 10 years is 32¢/day.
Five year ownership:  If you have each bike for only 5 years, you're looking at $1/day or 64¢/day.  You could have one of each of these bikes (plus rain gear, locks, and repairs) for less than an a tall coffee at Starbucks.
Bike/Car ownership:  I use my car for different purposes than my bike.  I drive about 5000/year.  Over 12 years, my car has cost about $46,000 to own and operate.  This comes out to about $3850/year, or $10.55/day.
Electric Bike ownership:  The Greenway+ electric bike costs $2500.  Over 5 years, this is only $1.36 per day.  I could buy one for everybody in my family.
SEPTA Comparison: Based on buying 12 monthly Zone 3 SEPTA Passes, the cost is over $5.50/day per person.  
These comparisons might seem absurd as I talk about the Finesse, but they are part of my considerations. Over five years, the bicycle's price matters very little as long as I'm using the bike to offset more expensive car and transit trips.
The Finesse is one of several bikes
The Finesse has performed well, and I plan to keep riding it as my town bike.  It's not so flashy that I'm afraid to lock it up downtown or at Temple University.  The lighting system, shifting and hydraulic disc brakes are really nice.  The bike has been incredibly reliable.
Over time, the Jari gravel bike will be my bike of choice for longer rides.  It's just a different bike, smooth and high performance.
If I were to have three bikes, they'd all serve different purposes.
Finesse, because it's dependable and a pleasure to ride daily and is set up for day/night commutes.
Jari 1.1, for comfort over long multi-surface rides.
A folding bike with rubber bar ends.
After that, I'd probably go for an electric assist bike (that I could loan to people so they'd try biking instead of driving).
Discussing price and value with my kids
People tend to look at price.  The Bicycle Quarterly review made a price comparison between the Uptown and the Finesse, choosing the Uptown.  Just about everyone I know makes a price comparison when looking to buy a bike.  That said, what if two bikes are the same price but one offers better quality, comfort and performance?  Ultimately, it's up to the buyer to make a decision.
Over dinner, I posed a scenario that compared a $1000 bike to a $1500 bike, something similar to the Uptown/Finesse scenario.
My daughter Jessica surprised me.  "I wouldn't buy either," she said.  "Both are way above my price range. I know I'm not going to use it enough to spend $1000 on a bike, so I'm going to get the best bike I can for $200."
Then she mentioned the importance of trusting the company.  Does it make reliable bikes?  Will it stand behind the bikes it sells?
She said that a company should be willing to find out what the cyclist needs and then ship 2-3 bikes to the nearest store for that cyclist to try.  And if that person isn't 100% happy and wants to return the bikes, they can because, "That's the job of the bike company."
She is suggesting that people want some certainty that they will be happy with their choice.  This could be done through a one year guarantee like Apple.  And people could purchase an extended Breezer Care for two years for an extra $179.  If they purchase it when they buy the bike, then they get more services than if they buy it later.
The real value comes from addressing the uncertainty that even the reviewer in Bike Quarterly expressed.  The uncertainty is, "How will it perform and hold up?"
Price and value over time
Price changes over time.  Manufacturers want to push out new models.  Those models get promoted.  Today you can buy a Breezer Finesse for $620 (1/3 the original price) from Bike Nashbar because it's not a current model.  The quality and the value to the bicyclist doesn't necessarily change. 
Final thoughts on the Finesse
Let's get back to the Finesse and think about its existence in the market of high performance commuting bikes.  As a cyclist, I trust the Breezer Brand.  And I trust the Fuji Brand.  I see people doing their best to innovate so that they are putting out the best bikes they can. I see people engaged in political advocacy on behalf of cyclists.
I rely on the brand to help me get close to my ideal bike in a single package since I'm not super connected to the tech side of the bike industry.  If I were to create a high performance commuter bike, I'd keep the Finesse frame, add a rear-view mirror, add a service plan that makes it a lot easier to replace parts, go with tubeless tires, create videos that show how to repair the bike (or direct people to the best existing videos), and create a community around a model.
The best innovation is a pre and post-sale relationship. A pre-sale relationship would reduce barriers to buying the bike.  A post-sale relationship would support happy cyclists who want to share their enthusiasm and let unhappy purchasers return the bike for a full refund.